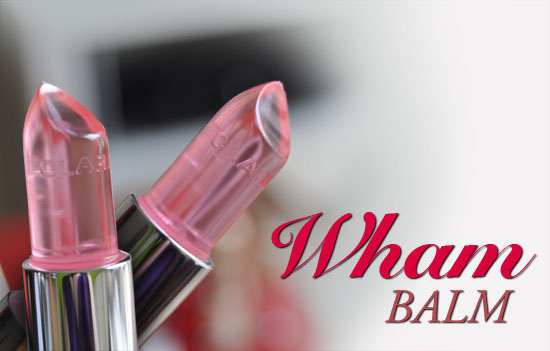 If you follow us on Twitter, you'll have seen me exictedly tweeting about this already: for pure novelty value, Clarins Instant Smooth Crystal Lip Balm deserves a post all of its own. At €19.50 you'd definitely say it's on the pricey side for a lip treatment, but the look on your mates' faces will be priceless when you pull this little yoke out in the pub.
In three shades, you're seeing the pinky one, Crystal, above. There are also orange and red-tinted ones, but based on the fact that there's no colour payoff with this at all, just a nice moisturising shine, I don't know how much difference buying each shade would make.
Part of the summer collection, Instant Sun Light, this product - and some more cute things I'll show you soon - will launch mid-May at selected Clarins stockists. I'm guessing that means department stores and bigger pharmacies, and while this might put you in mind of Jolly Ranchers and Foxes Glacier Fruits, there's lots of high-tech jiggery-pokery going on.
Advertised
The balm is based on gelled oil, contains ceramides for comfort and a super-duper polymer to magic it into a lipstick-shape. The brand say  it's a first but hey, I think if you looked hard enough in Japan you might find someone had beaten them to it. No matter - this is a nice product as it happens, with a very slightly tacky feel that puts it more in the gloss leagues than balm. But it delivers a shine that's more balm-like than gloss.
God I'm confused.
Here's more bafflement: "your lips smell like cheap sweets," was the unprompted comment from my beloved. "Er, is that a good thing?" I queried. "Yes," he replied, and went back to managing football leagues (or similar) on his laptop.
The verdict? Yep, I like it!