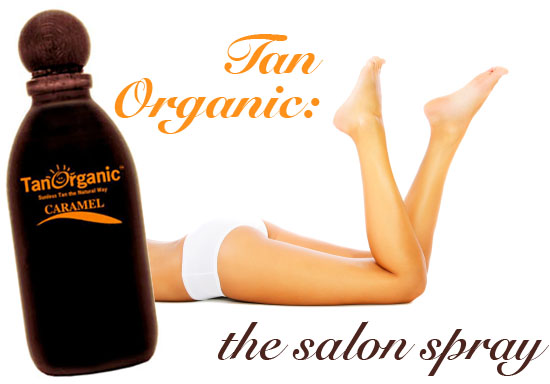 By now, Irish readers have probably heard of Tan Organic a time or twenty. A Dragon's Den success story, Kirstie gave us the lowdown on Tan Organic following a meeting with the tan's creator, Noelle O'Connor, back in May, and since then I've given both the professional in-salon airbrush version and the consumer DIY at-home version a whirl.
First up for review: the pro-applied spray.
I was advised to exfoliate well and moisturise the night before, but not the day of, my tan - I duly spent two nights scrubbing my skin raw to remove old tan build-up and dead skin cells, and lashing on moisturiser to ensure my skin was in prime condition. The application process itself was similarly fairly standard.
Standing in a small dedicated tanning room in some snazzy disposable knickers and with my hair out of the way in an equally fetching hair net, my therapist instructed me to assume various positions as she sprayed me with the lighter coloured "Caramel" tinted liquid from top to toe. She then gave me a hand-held dryer with which to dry the freshly applied tan.
It was a good job that she did: the aloe vera base means this stuff takes quite a while to dry.
Advertised
I made the mistake of putting my bra back on when I was getting dressed afterwards, which rubbed off some of the tan around the boobage, and my seatbelt caused some of the tan across my shoulder and chest to rub off. Happily, this didn't seem to affect the tan once it had developed - nor did the fact that I had it done on one of the hottest days of the year. (I was afraid that I was just going to sweat the whole lot off!)
While Tan Organic looks good as it develops - no dirty-looking colour change along the lines of St. Tropez, so you'll be alright to nip to the shops without scaring small children - I didn't feel like doing much else until I'd rinsed off the guide colour. That's because it felt a little bit, well, tacky on my skin. The following morning, though, after I showered, I was thrilled with the gorgeous golden glow the guide colour left in its wake. It was perfectly even, with not a single dodgy spot to be found.
In terms of wear, my Tan Organic treatment lasted a good five days before the fade set in; by day seven, it had turned patchy and at this stage did need to be scrubbed off.
I had my treatment at Éalú salon in Portlaoise, where a full-body Tan Organic spray will set you back €35. See here for a list of salons offering the treatment.