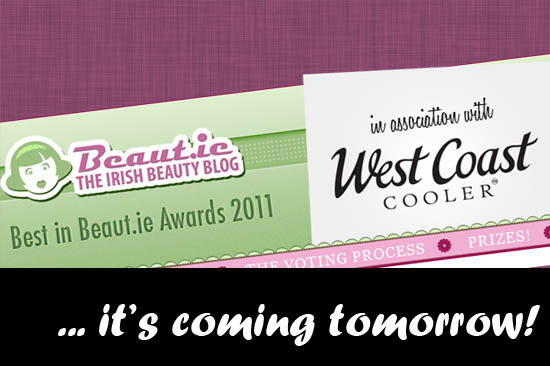 Get your fingers flexed because tomorrow's the day when the action kicks off.  Yep, The Best in Beaut.ie Awards in Association with West Coast Cooler Launch TOMORROW and it's gonna be a month of cosmetic-based fun.
So, how's it all gonna work? Simples, as the meercats would say. There are two stages:
STAGE 1
July 1st: NOMINATIONS
These awards are all about YOU, so this is your chance to have your voice heard. Make sure to get your nominations in for the products you love and adore - y'know, those Holy Grail cosmetics you simply can't live without and which deserve to be lauded from the rooftops. You can nominate any beauty product you like! That's the beauty (or should that be Beaut.ie?) of these awards - because you get to have your say on every single product that wins.
There are four main categories in this years awards and they are:
Makeup (sponsored by Paradox Oil)
Skin (Sponsored by A'Kin)
Hair (sponsored by Peter Mark)
Body (Sponsored by Laserway)
Each category contains a large number of voting options, like 'best mascara', 'best day cream', 'best blusher' etc.
There is also one more special award for best overall brand.
You'll have two weeks to get your votes in; the nomination round closes on July 15th.
Advertised
STAGE 2
July 21st: SHORTLISTS
Once we sort the entries received from the nomination rounds, we'll compile shortlists for each and every category and its associated voting options. Only the strongest-performing and most frequently nominated products  (i.e., the products most worthy of the awards) as nominated by Beaut.ie's readers, will make it to the shortlists.
Polls will go up on the Awards site so you can see what's made it to the shortlists and make your final decision on what products you want to be crowned Best in Beaut.ie 2011!
You'll have one week to vote on the shortlist polls; the shortlist round closes on July 28th
WHAT'S NEXT?
So, when's the big reveal? All will be announced shortly. Watch this space!
PRIZES!
And of course, we've got lots of incentives for you to get you clicking, nominating and voting. Prizes include:
5 West Coast Cooler Citra Hampers chock-full of fab goodies
Hamper of gorgeous A' kin skincare worth €100
3 month supply of Paradox Oils
Laserway voucher for laser treatment
2 x €150 Peter Mark gift vouchers
a few surprises
Advertised
Any questions? Ask 'em here!