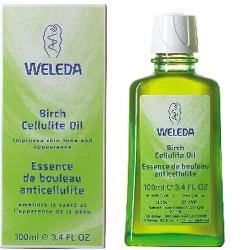 No, get your mind out of the gutter, I'm referring, of course, to cellulite.
Ugh. Orange peel, flabby thighs, call it what you will, it's just gross looking and most of us would do anything to get rid of it. And the problem of course, is that it's SHAGGING IMPOSSIBLE TO SHIFT. Dry skin brushing, massage, lotions and potions - oh, I've been there. I've been there, and my cellulite has lived to tell the tale.
We know that it's caused by toxins lodging untidily in fat cells, and that living the life of a particularly pious nun is probably the only guarantee that we'll get rid of it. But there has to be an easier way, surely? This may be skewed logic, but my reasoning is that if it's caused by toxins, then putting more of them on to cure it is sort of like putting a plaster on a severed artery. It's wishful thinking.
So perhaps one of our organic friends might come up with the goods - I like the look of this Weleda Birch Cellulite Oil. It's "a unique combination of plant extracts and natural plant oils (and) which visibly improves the skin's texture and smoothness by stimulating the body's own regulating and regenerating processes".

Ok, that sounds pretty promising, but it's not quite as simple as slapping it on and going about your business, unfortunately.
Advertised
For example, for the first four weeks of use, you have to massage the oil into the skin with circular movements at least twice a day. You also have to massage with a skin brush for five minutes in the morning before applying the oil too. So there's going to be a bit of work involved, and you could argue that the dry skin brushing would be effective on its own anyway. But, here - in case you feel discouraged by all that hard work, Weleda provide these pretty damn impressive stats:
An independent study, carried out by dermatologists on a group of volunteers, confirmed that after using Birch Cellulite Oil twice daily over 28 days, testers' skin was on average noticeably 22% firmer, visibly 21% smoother and cellulite significantly reduced. An informal focus group also reported an encouraging measurable loss in thigh circumference when using Birch Cellulite Oil – as much as 39.5mm
SOLD! Buy Weleda Birch Cellulite Oil online from the fabulous Love Lula site for €18.73, or you should also be able to get it in health food shops.