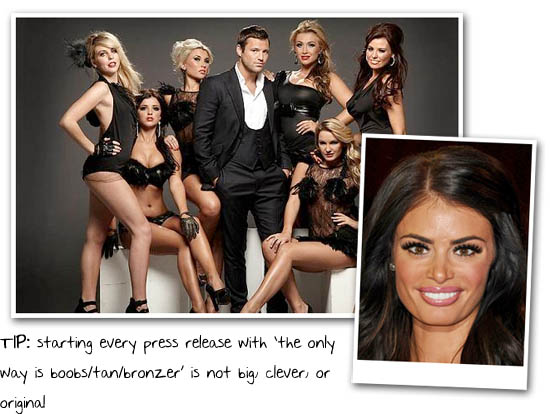 Hardly a day goes by at the moment when my inbocks isn't assaulted by some made-up trend by a PR firm desperate for some coverage for their client and right now, they're all trying to leverage it off the back of TOWIE. And you can imagine the sheer scope and scale of releases we might be getting in Beaut.ie land, can't you?
Here is a sample. I might have exaggerated some of the contents.
MALE CONTOURING SEES 100% INCREASE AS HARRY DERBIDGE-ALIKES TAKE UP THE BRONZING BRUSHES!
Release contains fascinating (made up) info and stats about the fact that now two men (this is how they can legitimately say it is a 100% increase) are now using bronzer, and then pushing the bronzer
THE ONLY WAY IS VAJAZZLING!!!
Tiresome press release about a tawdry knicker accessory we thought had gone out with the arc, or 2009
TAN TAN TAN!
Get some tan! Please make it OUR tan. TAN TAN TAN THE ONLY WAY IS TAN
AMY CHILDS' TAN LINE
She has one apparently; I deleted this before reading. I'm sure it's excellent though
THE ONLY WAY IS REALLY HEAVY FALSE LASHES
Understated? Get away. Wear these huge buffety things and look like you can hardly keep your eyes open - looking half pissed at 2pm is the new looking wide awake and intelligent!
MASSIVE HORSE TEETH HUGE NEW TREND
Afraid of getting lost in the dark? With our client's new UV veneers as seen on some TOWIE stars, this will never happen! Simply smile, stand under a UV light and all your friends will be guided your way, via Molar Light (MT), instantly
BOOBS ARE THE ONLY WAY
Get some fake boobs like some of the girls on TOWIE! Big round boobs are in! On trend! Oh God we hope this press release ensures it's the trend that sweeps the nation otherwise we're out of a job and our client will be really angry
ONE TOWIE GIRL IS PALE AND INTERESTING! BUT STILL WEARS PILES OF MAKEUP!
Be pale and interesting while loaded down with slap. Our client's makeup contains extra white stuff that's really thick and gloopy. The only way is to wear this and then an entire eyeshadow palette, one complete tube of gloss, four sets of false lashes and some Chanel tweed shorts in the middle of a snowstorm
Advertised
PS: I have never seen an episode of TOWIE. I just feel like I have, and know them all, ALL OF THEM AND THEIR WAYS, via the medium of PR and press releases assaulting my inbocks. Thanks brands. Thanks a zillion.