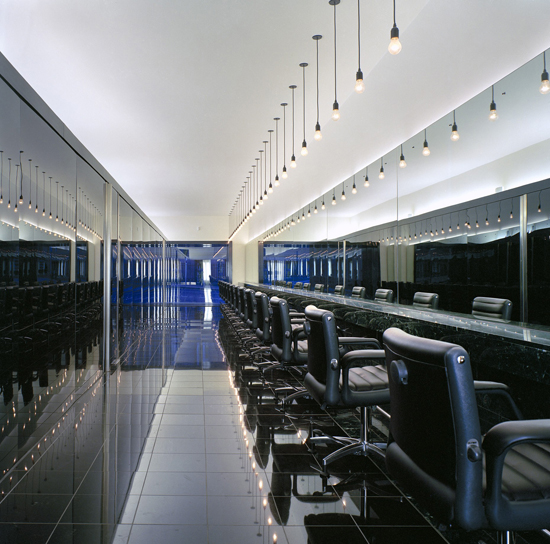 Not having gone next or near to a hairdresser for a trim for nigh-on six months, I was starting to look seriously unstylish (not to mention triangle-headed) by the time I got an appointment with senior stylist Katie at Dylan Bradshaw last week.
I must say, lighting aside (it's not kind to my pale skin), I love this place. From the outside, it's like looking into a kaleidescope and inside you marvel at the clever way they've designed what's a challenging and fairly tight space. But it never feels cramped, thanks to lots of sleek finishes and a careful layout that's ensured all the clutter you normally seen in a hair salon is kept firmly behind glossy wall panels.
I wasn't in for anything madly different, just a couple of inches off the length, a bit of a tidy and a nice blowdry.  Since the old grey hairs are now starting to take up about two hours of my day in plucking maintenance, I've kinda decided it's about time I bow down and give into the inevitable. While Katie kindly said I didn't need a dye job just yet, she did prescribe a patch test so that I could come back in soon and have one done. And boo of hoo, I think I'm going to have to.
Advertised
What marks Dylan Bradshaw out, then? It's a high-end space, so you do get a ramped-up customer service experience, and yes, you do pay for it - my cut would cost €95, and a blow dry starts at €45. But I award marks for complimentary shaitsu head massage (faaaab), a choice of drinks, up-to-date magazines, non-banal chat and a relaxing hair-wash area to the rear of the salon.  Then there's the fact that there's a private room for VIPs and treatments, and products are top-notch too - Shu Uemura's Art of Hair line and Kerastase are both stocked.
As good at maintaining your mammy's perm as they are turning at out fashion-forward and directional styles, this place is a little oasis just off Grafton Street, and I'll be back again and again.
Dylan Bradshaw, 5 Johnson's Place, Dublin 2, 01 671 9353, www.dylanbradshaw.ie