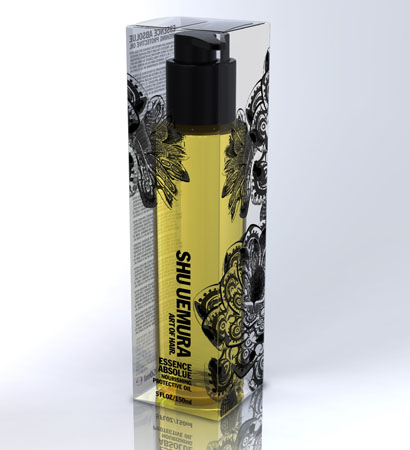 You know I'm always moaning about my poxy frizzy hair? Well I would imagine that a large part of my dislike of my hair has to do with my impatience with hair treatments. Such as conditioner. Well now, conditioner, to me, is a large pain in the arse. I can handle - and like - hair masques. They involve pampering, see. And sitting on the couch watching telly, hair wrapped in a hot towel as they do their silky-making job (face mask and nail products optional).
But conditioner requires you to stand, shivering, in the bath or shower for a few extra minutes wasting water or WORSE, getting cold, while it does sweet shag all (to my hair) before washing it out, all cold and slimy. Yuck. Boring. While I do try and beat myself into a conditioning routine every now and then - and even succeed for a week or two - I never ever finish a bottle.
What I do like is Shu Uemura's Essence Absolue. As well I might, says you, at €50 a go. I wrote about it ages ago, hoping the brand would see their way to sending me some to try. The gods of hair were smiling; they did. What's so bloody genius about this is that you use it before you wash your hair. Yes! No standing round in the nip with a cold, wet shower curtain attacking you! Hurrah! It's the ultimate in can't-be-arsed conditioning and best of all, it works.
Advertised
I lash a pump or three through dry hair an hour or so before washing, throw it up on my head with a hair tie and go about my warm and cosy business; wash hair as normal and leave to dry. You can also use on towel-dried hair or smooth a teeny bit through dry hair to sleek and tame flyaways, so it's a bit of a multi-tasker.
Oh, and if you do decide to buy, don't leave it on your bathroom sink alongside your very similar Shu facial oil, eh?