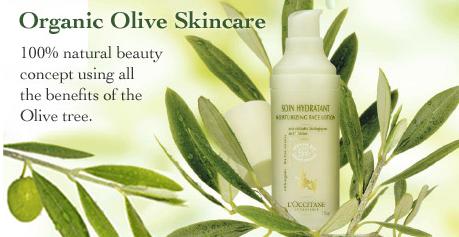 Xgirl brought us the news about L'Occitane's newest foray into skincare recently, and I've been checking out the Organic Olive Moisturizing Face Lotion for a couple of weeks.
That's a good sign to start off with, because if something doesn't suit me, it just doesn't get more than a couple of days. Basically, my face will begin to crack and fall off, so I have to hastily switch back to something stronger, pronto. But lighter weather meant a switch to a lighter product and while my inner sceptic was not amused when I decided to trial this, it shut up sharpish.
I do think it's a bit expensive at €32.50 for 30mls, and I am not a fan of the drab packaging, but my skin is liking it, and that's the most important thing. This is not a heavy-duty anti-ager, rather it's a nice basic moisturiser that'll suit dry and normal skins. It's somewhere between a fluid and a cream, rubs in well with no 'balliness', gives a nice matte base for makeup and it smells really fresh - very like the Olivina handcream I fell for before Christmas.
Advertised
No SPF is another drawback but not one I'd dock points for, considering the effort that's gone into this Ecocert certified line. It, and the rest of the products in the range, are available at L'Occitane stockists now.