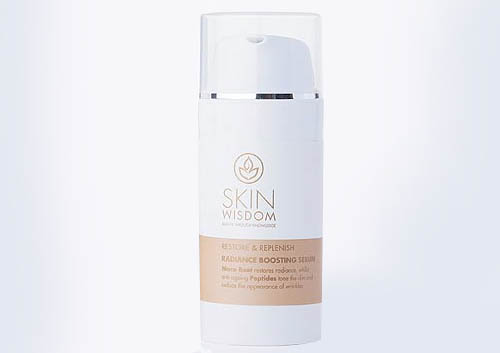 I was so impressed with the my first bit of kit from Tesco's Skin Wisdom range (remember this face mask?) that I resolved to sneak add some more of their goodies to the trolley on our very next shop. Scuttling off around the corner to the beauty booty while Himself stocked up on Crunchy Nut Cornflakes and decided whether to go for porridge or muesli, I lit upon this Radiance Boosting Serum, €8.85, from the Restore & Replenish line, grabbed it, and stashed it under the veg. (I may or may not have been humming the Mission Impossible theme in my head while that was going on.)
First impressions on cracking the bottle open were good: the serum is lightweight, smells delicious - kind of like sorbet - and contains tiny golden shimmer particles. It's infused with Maca root to restore luminousity immediately on application and over time, and melts into skin on application to give a gorgeous golden sheen.
Advertised
Dull or tired complexions are pepped up without greasiness and skin's left feeling smooth and silky. The serum can be worn alone or under foundation, but remember it's not a primer so don't expect it to prolong the wear time for foundation - I certainly didn't notice an improvement in that regard.
However, I am looking forward to seeing how the anti-aging and toning peptides to reduce the appearance of wrinkles with long-term use.