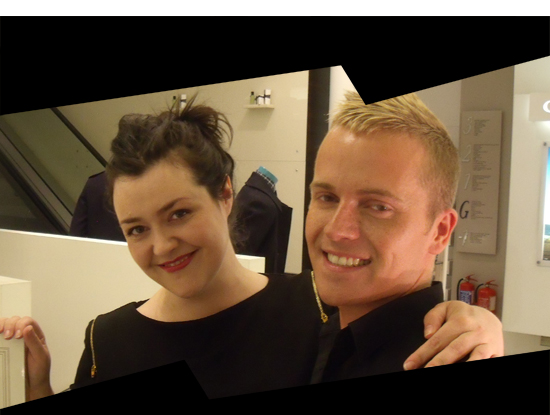 Sitting up all high and mighty in Brown Thomas the other day, sipping Bucks Fizz, I was having my makeup done by Martin Aitken, a member of the Dior UK pro team. The brand has become a bit of a firm fave with me of late, with plenty of hits on my scoreboard (the Five Colour palettes, the new Serum lipstick, Diorskin Nude foundation) and ahead of a big event in Brown Thomas later on in the month (more about that after the cut), Martin was over to decorate the faces of some lucky gals.
There I am above, all hair-scraped-back post-maquillage, but he did a great job. Lets face it, sometimes these counter jobs are more hatchet than not and I've left looking like a cross between a hooker and a clown on several occasions.
Martin has a lighter hand, thankfully. Using the aforementioned base and lip products, he did my eyes using one of the brand's Five Colour Designer palettes (which differ from the others in that they contain four shadows all in the same tones to take you from day-to-night, plus a creamy liner) and while you can't see it above, he gave me a lovely browny-toned and subtle eye that worked really well.
As he was painting we were chatting, but conversation trailed off abruptly as, bizarrely, none other than Boyzone member Keith Duffy (very tanned) hove into view strolling past the Clarins counter, rendering Martin and myself (temporarily) speechless as he ascended the escalator, showing off what can only be described as an Impressive Arse.
Stunned silence didn't last long - we're people of the world, peeps - and we were back gassing about gloss with the quickness.
If you'd like a bit of a go of Martin's skills yourself, he'll be at BT Dublin from the 22nd-24th of this month - all the details are after the cut. He's a good bet for a glam evening look, and a lovely fella to boot. Go!

Advertised
DIOR PRO TEAM EVENT, BROWN THOMAS DUBLIN, 22nd-24th October 2009
A one-off opportunity to learn professional tips and techniques from members of the national Dior Pro Team and discover the latest innovations in Dior make-up, including the exclusive launch in Ireland of Dior's Christmas Look.
The Dior Pro Team are a team of talented make-up artists, headed up by Dior's National Make-up Artist Jamie Coombes. They are passionate about their work and all have impressive and rich backgrounds:
Jamie Coombes, Dior National Make-up Artist, has created the looks of numerous international celebrities from Sharon Stone to Eva Herzigova to Misha Barton, and each year works with the stars at red carpet events such as the Cannes Film Festival. Jamie has also worked backstage at the Dior catwalk shows in Paris.
Daniel Hermy, Dior Regional Make-up Artist began his career creating looks for music videos, fashion shows, photo shoots and television and worked with many of the world's most famous make-up artists, joining Dior in 2008.
Habeeb Ghulam, Dior Regional Make-up Artist, has shared his make-up skills on television shows including Style in the City, and has also creative directed the make-up for fashion shows.
Martin Aitken, Dior Regional Make-up Artist, initially specialised in stage and special effects make-up for the BBC, then found his passion lay in fashion and beauty make-up, becoming a BAFTA make up artists for 3 years creating celebrity red carpet looks.
THE FINE PRINT AND DETAILS
Advertised
DATE: From 22nd to 24th October The Dior Pro Team will be at Brown Thomas Dublin giving exclusive in-depth consultations and makeovers.
WHAT'S ON OFFER: As well as using new Dior's Christmas Look (exclusively pre-launching at Brown Thomas) the team will address each customer's specific needs offering a skincare consultation, a makeover and exclusive tips and techniques. A unique, exciting customer experience with one single aim: to solve all beauty needs!
DURATION: 1-hour appointments, redeemable booking fee
PRICE: €50 for Jamie Coombes, €35 for the team
TO BOOK: Book sessions at the Dior cosmetics counter at Brown Thomas Dublin on 01 617 11 34