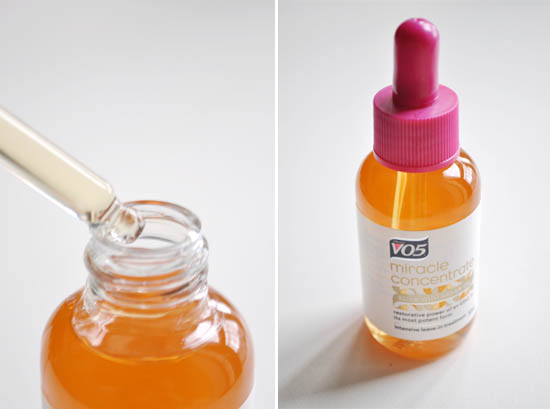 I've seen a fair bit of activity online about VO5's Miracle Concentrate and got curious - as the not very proud possessor of frizz-prone hair, I like oils and smoothing serums a lot, and am a regular Moroccanoil user.
Yet another hair treatment with argan oil, the VO5 product boasts:
VO5 understands the damage we do to our hair through everyday washing, brushing, colouring and styling. That is we've made this little miracle product with Argan Oil, known to be:
High in Vitamin E.
Rich in anti oxidants to help fight against free radicals.
Hydrating and deeply conditioning.
How does it do that then? By the very power of silicone, ladies.  Moroccanoil's the same, by the way. All these new products that make such a virtue of being so kind and amazingly natural and good for hair because of the fruits of the argan fairy are in fact so good at what they do in large part because silicone makes up a (you guessed it) large part of the ingredients listing. And uhuh, the argan oil's great too - it's hydrating and full of lipids which skin loves as well.
Advertised
Lots of people hate it but I love, love, love silicone in hair products. It fills in all the crappy gaps in my crappy tresses and smooths down the cuticles of my hair to give the appearance of sleekness. Like Moroccanoil, you use a couple of drops of this on damp hair, smoothed through the mid-lengths and ends, and style as normal, or allow to air dry. The result is slippy, frizz-free locks. Yes, it's temporary and cosmetic but it works.
VO5 Miracle Concentrate contains Cyclopentasiloxane, Isododecane, Dimethicone (a form of silicone), Cyclohexasiloxane, Argania Spinosa Kernel Oil (this is the actual argan oil) ,Dimethicone Crosspolymer, Parfum (Fragrance), CI 47000, CI 26100 and Moroccanoil contains Cyclopentasiloxane, Dimethicone, Cyclomethicone (both forms of silicone), Butylphenyl Methylpropional, Argania Spinoza Kernel Oil (Argan Oil), Linseed Extract (Linum Usitatissimum), Fragrance (Supplement), D&C Yellow 11, D&C Red 17, Coumarin, Benzyl Benzoate, Alpha Isomethyl Ionone.
So, fairly similar ingredients listings except Moroccanoil might be a tad more nourishing because it's got a second extract in there in the form of linseed, which probably helps with conditioning and shine.  It's possibly more sleeking because it's got two silicones as opposed to VO5's one. That helps explain why it's pricier - a 25ml bottle of Moroccanoil will cost you €16.06 from FeelUnique.com* while a 50ml bottle of VO5 Miracle Concentrate will set you back just €6.49 from Boots.
The immediately noticeable differences here apart from packaging (Moroccanoil is heavy glass, VO5 is plastic with a handy dropper) are scent - the VO5 product has a strong initial fragrance that's not that great, whereas Moroccanoil is a lot more lightly perfumed. Once it's on the hair you don't really notice it. The consistency of each is markedly different too - Moroccanoil is almost like honey it's so viscous, whereas this is a lot thinner.
So, which should you go for? I can't give you a proper status report yet as I only bought my bottle at the weekend, but I would think that a few simple observations might help you make a choice:
Price: bit of a no-brainer this. The VO5 product is a hell of a lot more affordable
Availability: I got the last VO5 Miracle Concentrate in Boots Liffey Valley and it is quite hard to get hold of at the moment as it's in demand. But so is Moroccanoil - and if you can find a salon near you selling it then you have to buy online. That's not possible for everyone, but heading to Boots or your local chemist or supermarket is
Usability: The dropper in the VO5 bottle is a much better way to present a liquid product and makes it much easier to use and control than pouring straight from the neck of the bottle the way you do with Moroccanoil
State of your barnet: I have heavy-duty frizz issues and always found Moroccanoil fine to deal with them. But those with fine hair or blonde hair felt it was too weighty for them, and had to hang about for the Light version to be released.  Because VO5 Miracle Concentrate has a couple less ingredients and feels a lot thinner in texture, perhaps it would be a better bet if you're just looking for a styling or blow drying aid or something to tame flyaways
And there concludes my lengthy treatsie on all things argan-oil based. Have any of you tried the Miracle Concentrate yet? How have you found it?
Advertised
*Indicates an affiliate. This means that every time you click through the link above and choose to buy something we will get a tiny percentage of that sale.