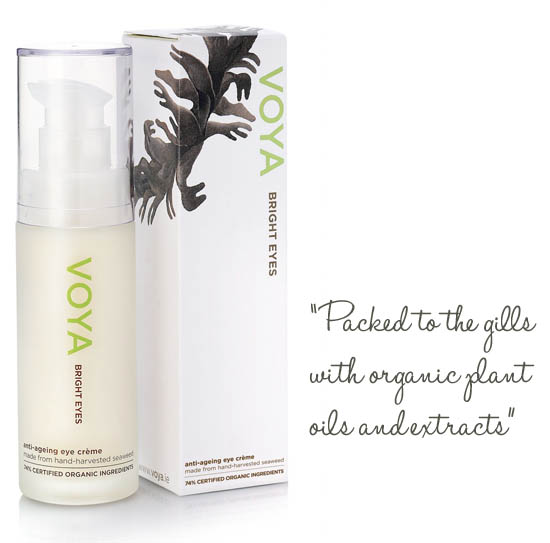 I've been curious about the Voya product line for quite a while, but the Bright Eyes eye cream, €52, is the first product I've actually tried. To be perfectly honest and up-front about it, the high prices on these products is what puts me off, especially when I can find skincare products of similar quality from companies with a similar ethos for far less. And while I love an Irish success story and the fact that the products are based on locally-sourced ingredients, I still find it hard to shell out above-the-odds for something that isn't necessarily a superior product.
Nevertheless, let's see what I actually thought of Bright Eyes when I trialled a sample.
Firstly, the packaging is nice. A glass bottle gives it a nice, reassuring weight and the pump top is easily controlled to only give you as much product as you need each time. There's a nice minimal look to the bottle, ideal if you like to keep your beauty products on display where you can admire them.
Then the ingredients. Based around the seaweed for which Voya is famous, Bright Eyes is also packed to the gills with organic plant oils and extracts. The inclusion of ten different essential oils seems like overkill, especially given that I don't even detect any fragrance when using it, but since I don't like fragrance in an eye cream, I'm not complaining.
Advertised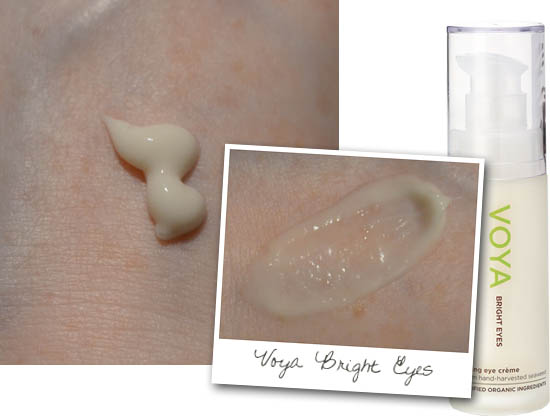 So how is Bright Eyes to use? Very nice, as it happens. The light gel-cream formula spreads smoothly on the skin and sinks in quickly, leaving the eye area feeling smooth and soft, with no surface tackiness or oily feeling. It creates an ideal base for makeup, but I also like that it doesn't leave a shine on the skin if I'm not wearing makeup. And I've experienced no eye sensitivity whatsoever from it, even when I slather it on before bed.
Bright Eyes is a good hydrating cream and is doing a nice job of tackling the fine lines that have appeared on my dehydrated skin recently, but from an anti-ageing point of view I don't think it's going to do much more than that. This is a good option if you're looking for an eye cream to hydrate and smooth, but it's not going to do anything more hardcore than that. It's good enough for me to continue to use, but to be honest I probably wouldn't purchase it due to the high price-tag.