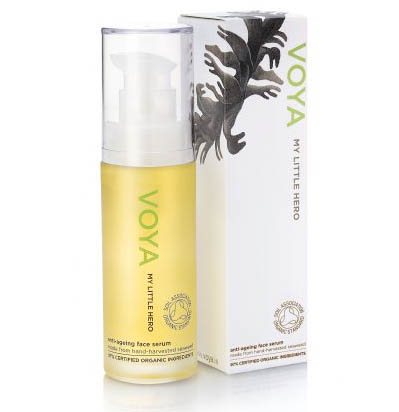 Since the colder weather settled in for the long haul, my skin, like everyone else's, has been suffering. Aphrodite's trick of leaving bowls of water by radiators is genius, but I can't implement it.
The dog drains every bowl of water left on the ground by the radiator, and if I leave one on top of the rad I'm terrified of accidentally knocking it over and destroying the wallpaper.
So rather than risk inadvertently waterboarding Boris, I've added serums and oils to my routine to hopefully keep dessication at bay. The bottle of Voya My Little Hero, €55, that's been awaiting trial is one product that's been dusted down and pressed into service, and I'm using it nightly and really liking it.
Advertised
The Voya website sez: "Our organic face serum is an intense blend of organic oils, designed to give the skin a boost to its natural defenses. These oils are naturally packed with powerful antioxidants, offering nourishment to improve radiance and bring life to dull skin. It can be used on its own or in conjunction with our moisturiser for the most troublesome skin."
I sez: I had previously been using Trilogy Rosehip Oil at night, but I actually find that My Little Hero is suiting my skin better. It seems less inclined to encourage breakouts than the Trilogy offering, which is just as important to me as radiance and hydration and warding off fine lines. I also like that it's Irish - Voya has grown out of a family-run seaweed baths business in Strandhill, Co Sligo - but I do not like the price.
My Little Hero is €55 for a 30ml bottle; by comparison, €19.95 will bag you a 20ml bottle of Trilogy Rosehip Oil. Guess I should stop slathering it on like it's going out of fashion and hope that Santy is feeling generous ...