 We're constantly bombarded with pictures of beautiful people - unrealistically beautiful people.  With the click of a mouse and a little patience anyone can appear years younger.  Have fantastic skin.  Have all their lumps and bumps smoothed out, have glossy hair, longer legs and a nipped in waist.
No one, repeat NO ONE looks the way they do in an advertisement or on the pages of a magazine.
It's insane.  And the over photoshopping of models and celebrities is landing them and the companies that promote Photoshop overuse in hot water.
We've seen L'Oreal being taken to task over its quite frankly ridiculous images of Julia Roberts for Lancome and as pressure builds hopefully cosmetic companies will decide to scale back the use of this "wonder cosmetic". Read: Airbrushed much?
Consumers aren't stupid guys.  Far from it.  And preying on their insecurities is a sure fire way to turn them off your brand.
Advertised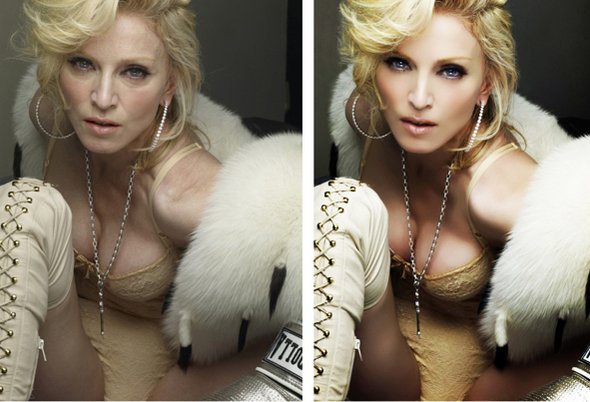 Read: secret to Madonna's eternal youth
Make sure to keep your eyes peeled for all of our "Real Girl" tutorials.  Using only a camera, real girls, not models and some great makeup we'll be rolling out lots of looks and how tos in 2012 which will be achievable by us all.  And you can rest assured that to us Photoshop is definitely a dirty word (see our current tutorials here).
How turned off a brand or product are you once you notice heavy use of Photoshop?