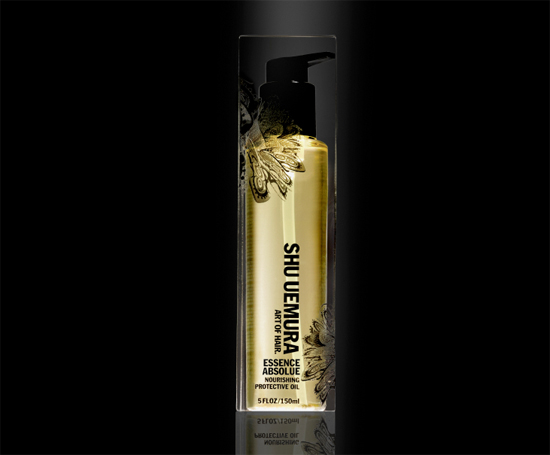 First, the bad news. Shu Uemura's new Essence Absolue costs €50 for a stylin' 150ml tube of nourishing protective oil, which features camellia oil as its main ingredient.
Now, on to the good news. This is a company who are stellar with oil-based products and while Eve Lom has captured my fickle heart for now, I am still a devotee of their excellent cleansing oils.  I regularly use the brand's Silk Oil Camellia Smoothing Fluid to tame my hated frizzy mane too, and after a year or so of use, I'd say I've only managed to get through a little over a quarter of a 50ml bottle. You need so little each time - just a drop or two, that I don't think I'll have to replace it EVER. Oh ok, maybe in four years.
Hopefully this new product will perform similarly, because, while it's not a Beaut.ienomical buy, it's multi-functional. Use pre-wash as a treatment to soften hair (lash on 3 or 4 drops to the mid-lengths and ends, comb through with a wide tooth comb, leave in for a few minutes and then apply your shampoo) or use on towel-dried gruaig to keep things in check before you style.
Advertised
Particularly suited to those with  coarse, curly or thick hair, it can even be used as an instant split-end camouflage - warm a drop between your palms, and smooth down over the ends of any raggedy looking bits.
I am truly, madly, deeply hoping I might get a sample of this to test - and if I do, watch this space!