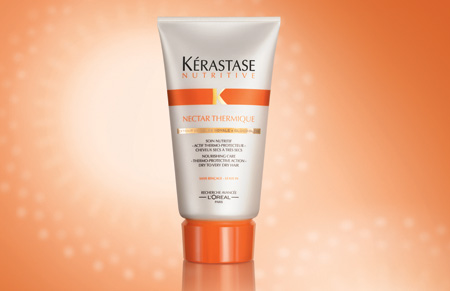 I'm really liking the direction hair products have been taking of late - brands are developing products that are skin care-like in their aim and effect, and as the owner of dry, frizzy hair, I'm all for it. Lets face it - I need extra help and shampoo and regular conditioner don't cut it.
Kerastase launched their thermal protection product, Ciment Thermique, last year and now they've just debuted Nectar Thermique. It's a leave-in thermo-protective treatment for dry hair that's part of the Nutritive product family.  The idea is you whack it into wet hair, don't rinse out and then style using hairdryer or straightener. It protects and adds shine and manageability.
A walnut-sized amount (it's gas, Kerastase are always going on about walnut sized amounts) is all you need, work it into the ends of hair and upwards,  then detangle with a wide-toothed comb. It's very light and apparently absorbs immediately.
Advertised
Does it do anything? I think so - my hair went (even more) bananas last week with the cold - hello, triangle head - so I gave it a go. I didn't actually heat-style at all, just put it in after washing, and let it dry naturally. And yep, hair de-frizzed, felt smooth and sat down well.
The last Kerastase product I really rated was Noctogenist and that was because  I saw immediate results - and that's pretty much the same with this baby. €24.30 for 150ml is the damage, but those wee walnut-sized blobs should mean it lasts a good long while.
Buy from Peter Mark salons nationwide.