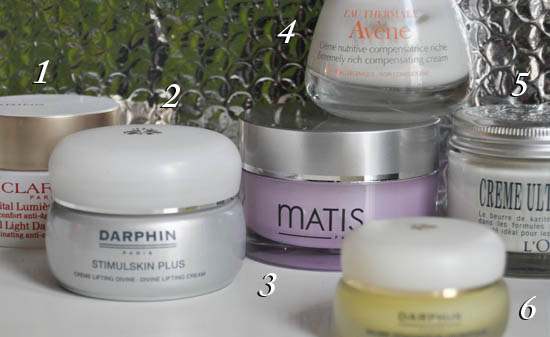 I have dry skin. Have I ever mentioned that? Ah, yeah, only a time or eleventy billion. Anyway, I've been stockpiling moisturiser samples for a while now ahead of the winter and since it suddenly decided to make an appearance this week with THUNDERSNOW, I am feeling pretty bloody smug about the whole squirrely-stash-thing I'd been doing.
Every winter we revisit old faves and discover some new hard-working and climate-appropriate skincare. My particular faves are always going to be anything with the approximate texture and consistency of butter or very very thick cream.
While I'm glad I've discovered what does it for me, the down-side is that my requirements don't tend to be satisfied at the budget end of the scale. Oh no, only the posh best for moi, it appears.  I think supermarket skincare can be a beaurrriful thing, but it tends to not be rich enough for my complexion and as a result I always gravitate back to high-end spends which cost more but which balance that with a corresponding ingredients investment. Do please read this post with that caveat in mind!
So, here's what I've collected for winter 10/11 so far - by some co-incidence they're all from French brands but this is by accident rather than design. If you have very dry skin that needs a lot of moisture and nourishment, then these are all a good bet. We've looked at a couple before, so check their links for extra info.
Clarins Vital Light Day. Billed as an 'illuminating anti-ageing comfort cream', this is a very good new pick. I did get a bit of a shock when I realised it was €70 so it's definitely not one for those on a budget. As a daily moisturiser to suit dry-to-quite dry skin, it ticks all the boxes. Almost to the end of the pot of peach-coloured goodness, I can't swear to extra luminosity but I will vouch for it delivering plump soft skin and a great base for makeup.
Darphin Stimulskin Plus is another spendy fave. You can buy this for ... gulp ... €146 from FeelUnique.com* and while I don't write much about Darphin on Beaut.ie because of the price-point, hand on heart, this is one of my very favourite skincare brands. I am a huge fan of the (also v expensive) Eight Flower Nectar oil which this winter I am making go further by adding a drop or two of Trilogy Rosehip oil.  I also adore Fibrogene (expensive!) and I would like to drink down this particular pot of thick goop so it can anti-age my innards too. Honestly, this is a treat that very definitely gives you soft, smooth, happy skin.
Matis Reponse Junesse Climatis, €49.20, is one we've taken a look at before. I really like this. A French salon skincare brand, Matis doesn't get a huge amount of love media-wise, and has a tendency to make really silly 'slimming' body creams, but I can't fault its facial lines. This is great. Very nicely-textured, it's balm-like, sinks in excellently, hydrates really well and has a light scent.
Avene had me at the name of the Extremely Rich Compensating Cream. At €30, this is the cheapest of the bunch too and I am delighted the brand is now more widely available here. This is very rich indeed, and while I have diagnosed an increase in Face Cheese as a result of its use, I'm not too bothered: I enjoy a hoke and this is keeping those long-fought side-of-eye lines at bay.
L'Occitane Ultra Rich Face Cream, €34.95, is another I packed away from last winter. You practically have to fight this out of the pot it's so thick and is a great one to have on hand for very dry skin thanks to 25% shea butter in the mix. This year I am finding the scent a bit overwhelming I must admit, but it's still doing the same job it did last year, so it makes the cut.
This isn't strictly-speaking a moisturiser at all: it's Darphin (surprise!) and it's the Aromatic Renewing Balm. Another one you can buy a little cheaper from FeelUnique*, it'll set you back €43.88 for 15ml and it's a fab-smelling (think lemon curd) pot of essential oil-based goop that works wonders on chapped noses and patches of stubborn flaky skin. You only need a tiny amount and this is now entering its third winter of usage.
Advertised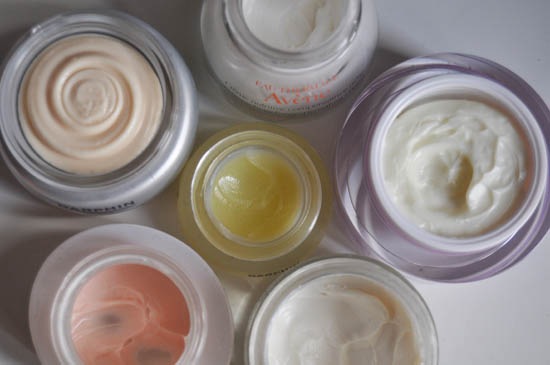 Here's a shot of all the textures with Clarins on the bottom left. Cycling clockwise upwards we have Darphin, Avene, Matis, L'Occitane, with the Darphin balm in the centre.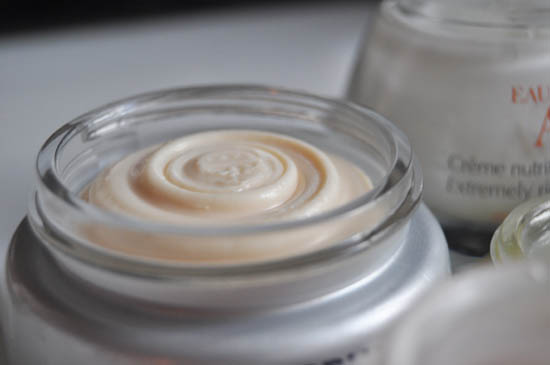 Here's a close-up of Darphin Stimulskin Plus. Gaze upon its solid, dreamy-creamy ways. It'd be a shame to mar that perfection by using it, wouldn't? Ha - no!
*indicates an affiliate website