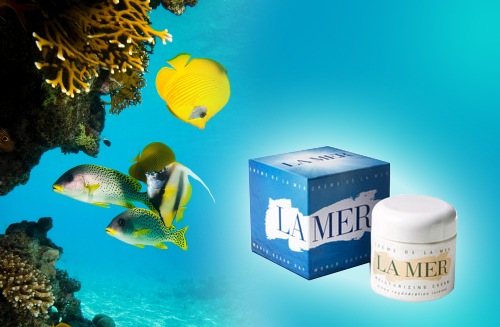 Did you know that today is World Oceans Day? Yup, it is, but what, pray tell, does that have to do with a blog about beauty products?
That's an easy one: the sea plays an increasingly important role in the business of beauty these days, as brands begin to recognise the benefits of ingredients found beneath the waves. It makes sense: we're all aware of the nutritional benefits of good fats found in oily fish like salmon, and seaweed is a well-being remedy that's been acknowledged for centuries, plus it has great moisturising abilities. Sea water is also very similar to the makeup of blood plasma, meaning remedies from the oceans are potentially very compatible with our biology.
La Mer use a Miracle Broth harvested from sea kelp as their wonder-ingredient in products like Creme de la Mer. Likewise, H20+ products are packed full of a sea-derived complex of minerals and nutrients, and here in Ireland, beauty and nutricosmetic brands like Voya and Dermarine are exploring the powers of the deep, with their bathing and supplement products sustainably created from seaweed and Irish oysters.
Advertised
While it's great to have choice, the seas need protecting, too. We're all aware of the problems caused by pollution and over-fishing, and it's imperative that cosmetic companies respect the source of their innovations. Step forward, La Mer. They've teamed up with Oceana, the world's largest international ocean advocacy group, and since 2005, the company has supported Oceana's team of scientists and conservationists with funds to enable them to help effect change.
In addition to numerous donations,  La Mer has also been active in supporting Oceana's Partners Award Gala, which honors outstanding work in the field of marine conservation, and this year, the brand are donating the net profits from a specially-created commemorative 250ml pot of their original cream to Oceana. The price? an ouch-inducing £530stg, exclusively from Harrods.
So while Irish ladies can't waltz into Brown Thomas to buy, you can splurge if you happen to be over in London in the next little while, content that your outlay is helping both your skin and the sea. Aww.