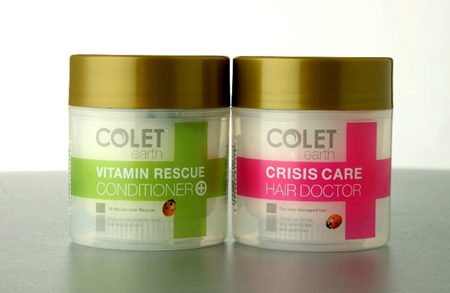 We're all only too aware that the winter weather and the always-on central heating and everything else that goes with it plays havoc with our poor old hair. Despite this, we probably don't lavish the gruaig with the extra attention it cries out for in the colder months  - even though we'd be carefully combing UV protectants and the like through it during the summer hols!
Thankfully, it's possible to make amends without breaking the bank. To bring dried out, dull and damaged hair back to life, get yourself a tub of Irish brand Colet Earth's Vitamin Rescue Conditioner stat. This 10 minute intensive treatment nourishes hair and scalp and is choc full of goodies like essential oils, Vitamin C, Vitamin E, ProVitamin B5, and shea butter to leave hair soft and hydrated. What it doesn't contain is just as important: there are no parabens, harsh preservatives or petro chemicals. Although the stuff doesn't smell especially luxurious in the pot, given that it's a bit like a cross between sun lotion and blokes' aftershave, it's not overwhelming and the scent doesn't linger on hair after use. Besides which, this is really good: I'd normally only use an intensive conditioner like this on the mid-lengths to the ends of my hair to avoid weighing it down, but to give this a proper trial I lashed it on from roots to tips. It left my hair feeling incredibly soft and looking super, super shiny - as in, mirror high-gloss never seen before shiny - without making it limp or lifeless.
Re-sult!
Advertised
€4.99 for 150ml from Tesco, SuperValu, Eurospar, and pharmacies nationwide. 10% of the profits from each sale go to The Irish Cancer Society.