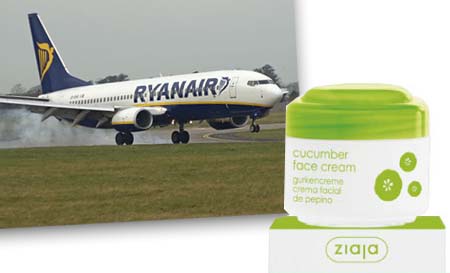 Cheap, no frills - but it just might have landed at an airport too far away for Irish sensibilities.
Clumsy analogies aside, Ziaja is claimed to be Poland's leading skincare range and is unbelievably affordable to our ripped off Irish eyes. This skincare range is massive and everything is priced from €2.95 to €10.95
So what do you get for your pocket money? You get very basic skincare that's dermatologically tested, hypoallergenic and cruelty free. So that's all good. But it is very basic and the packaging does look like it cost 1c to make (fair dues, it probably did).
Advertised
I tried out some of the products from the cucumber range: the cream cleanser, the exfoliator (worryingly called skin peelings) and the moisturiser. The textures aren't great to be honest, but the products do what they say on the tin. If you're looking for a budget alternative to the products crowding our supermarket shelves give this a go - but I think you might like the Lidl (Cien) or Aldi (Siana) ranges better.
It would be great if some Polish ladies would comment and let us know what they think of Ziaja (pronounce it Ji-ya). Maybe you find it rocks and I didn't give it enough of a chance...
Ring 01 8369967 for stockists or have a look at www.ziaja.ie