 There's really only one category of clothing that I hate shopping for, and that category is underwear. And before anyone jumps in with the importance of dressing well from the inside out and how a fancy pair of knickers and matching bra can make you feel like a new woman who can kick the world's arse, let me tell you that I know that already. It's a sentiment I agree with, actually. But I'm a fussy cow and I knows what I likes, and sometimes it's just bloody hard to find underthings that live at the intersection of "feels really comfortable" and "looks awesome and a bit sexy."
Sleepwear is a case in point. I don't like anything strappy or short so my ensemble currently consists of a super cozy fluffy light blue dressing gown with spots on from, er, the kid's department of Marks & Spencer and sets of cotton David & Goliath t-shirt 'n' trousers pyjamas featuring cartoonish illustrations.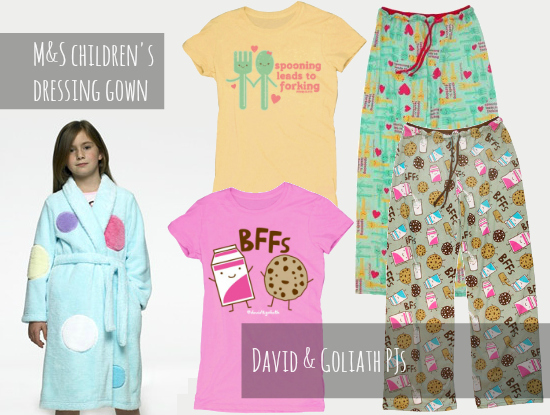 This set-up ticks the comfy and awesome boxes pretty beautifully, in my opinion, and while Himself protests that these are sexy jammies, they're not exactly chic.
Especially when paired with fluffy socks or UGGs or my indoor flip flops.
So when I noticed recently that the dressing gown and several pairs of the PJs were starting to look kind of tired, I thought I might replace them with slightly more grown-up versions. Nothing too slinky or sexy, now; no crotchless shorts or Maribou-trimmed see-through babydoll nighties or any of that eejitry. (Sorry, Himself.) I just wanted something a bit more sophisticated than the current gear that would still be cozy enough to cope with cold winter mornings or to curl up on the couch of an evening.
How foolish I was to think that such a thing existed.
Advertised
It seems to me that there's no middle ground between "warm" and "sexy" when it comes to sleepwear. Apparently you can be cozy and look like a fleece-wrapped Yeti or you can look fabulous and freeze your tits off, but both? At the same time? Ahahahahaaa. Fuhgeddaboutit.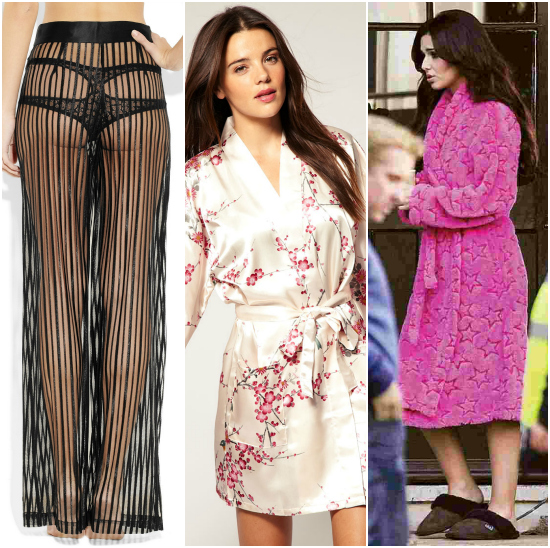 from the ridiculous to the sublime at Agent Provocateur (sadly out of stock) and ASOS; Cheryl goes for comfort
The one true exception that I found was this machine washable cashmere dressing gown with silky belt from the M&S Rosie for Autograph collection, but Rosie clearly designed the range for people as tall as herself and it absolutely swamped my frame.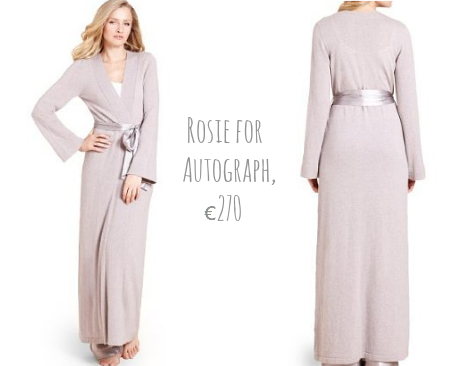 Oh yeah, and it costs the guts of €300.
Advertised
If I happen across a silky kimono style dressing gown and matching PJs with hidden microfleece lining I'll be sure to let you know, but in the meantime tell me this: what's your own sleepwear style?