 Coronation Street have confirmed this morning that its legendary creator Tony Warren sadly passed away last night after a short illness, surrounded by his loving friends.
Warren could easily be called the forefather of the British soap having created Coronation Street in 1960 when he was just 24-years-old. He served as a writer on the series until 1968, after which he moved on to other fields, but he remained as a consultant on the soap up until recently.
The entire Corrie cast and crew are said to be heartbroken after hearing the news this morning, with John Whiston, the creative director for soaps for ITV Studios saying in a statement;
"Amid the many and much deserved tributes to Tony Warren, surely there can be no greater tribute than that the show he created 56 years ago is still the number one show on British TV. Tony infused Coronation Street with his own spirit, one that was at the same time dramatic and credible, exciting and grounded, funny and humane. It is Tony's spirit that has kept the show fresh and relevant all these years and will do for years to come. All who are lucky enough to work on the show owe Tony a huge amount of gratitude. As do all the millions who tune into Coronation Street week after week."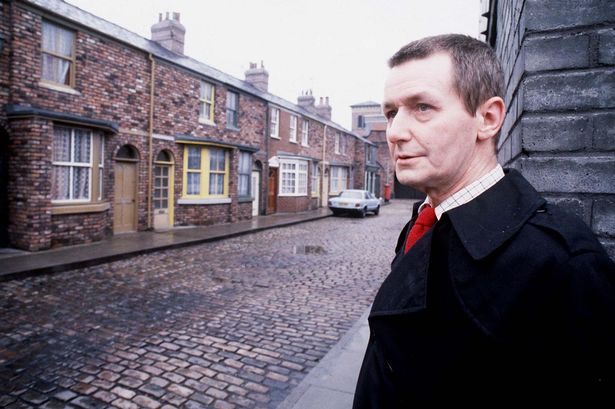 William Roache, who of course plays Ken Barlow on the popular soap, and has worked with Tony since Coronation Street's first episode aired on 9 December 1960, said: "When I first met Tony I couldn't quite believe he'd created and written Coronation Street because he was no more than a young boy. It was his boyish energy even recently when I saw him again that I'll remember. I loved Tony's energy.
"He was the father of Coronation Street and he gave us all so much. He will be so desperately missed because of who he was and what he did. We owe him so much."
While actress Helen Worth (Gail McIntyre) who has worked with Tony for 42 years said: "Tony was a genius of our time, the dearest funniest and most inspirational man of his generation. He brought real life into our homes for us all to relate to and enjoy. He will of course live on forever through Coronation Street."
Warren made a cameo in the 50th anniversary live episode of Coronation Street in December 2010, while he was played by David Dawson in the BBC drama The Road to Coronation Street in September that year.
Advertised
Warren received many accolades throughout his career including the Special Achievement Award in Soap at the British Soap Awards 2000 and the National Television landmark award followed in 2005. His most recent award was at the Royal Television Society awards in which he was honoured with the Lifetime Achievement award. The society also labelled the show as "the most successful television programme in British history". While in 1994, Warren was appointed as a Member of the Order of the British Empire. (MBE)
Tony is survived by his cousin Roy, his loving and devoted friends and his colleagues at Coronation Street who in later years became like family to him.
It's with great sadness that Coronation Street confirms legendary creator & writer Tony Warren,MBE has passed away. pic.twitter.com/WhwInLMVaL

— Coronation Street (@itvcorrie) March 2, 2016
With such sadness today we say goodbye to the great Tony Warren. An amazing man, a true legend. We owe him so much. He will be sadly missed

— Kym Marsh (@msm4rsh) March 2, 2016
So sad to hear this R.i.p tony and thank you xxx https://t.co/57SIJcWCfT

— Jane Danson (@RealJaneDanson) March 2, 2016
So saddened to hear that Tony Warren has died. He was the truly wonderful man who gave us @itvcorrie .. #RipTony we will never forget you ðŸ'"

— Samia Ghadie (@realsamia) March 2, 2016
"Tony was the father of Coronation Street and he gave us all so much." - William Roachehttps://t.co/pjdgBVYO7B pic.twitter.com/lZPCS6fnin

— Coronation Street (@itvcorrie) March 2, 2016
Here's some of the Coronation Street family with Tony in happier times. I'll miss his outrageous stories & his love pic.twitter.com/ThE3nVTz72

— Antony Cotton (@antonycotton) March 2, 2016
Advertised