 Presumably when the people behind Interview magazine recruited Jennifer Lawrence to interview actor-of-the-moment Eddie Redmayne, they wanted her to talk about herself also. And she did.
The 'Serena' star, who recently rekindled her relationship with Coldplay's Chris Martin (that's the rumour the mill is currently churning out, anyway), is currently taking a well-earned break from Hollywood, but admits she is "miserable" when not working.
Asked by Eddie Redmayne if she is being "a lady of leisure," the Oscar winner said: "I am and I'm miserable. I was so excited to get time off, and now I don't know what to do with myself."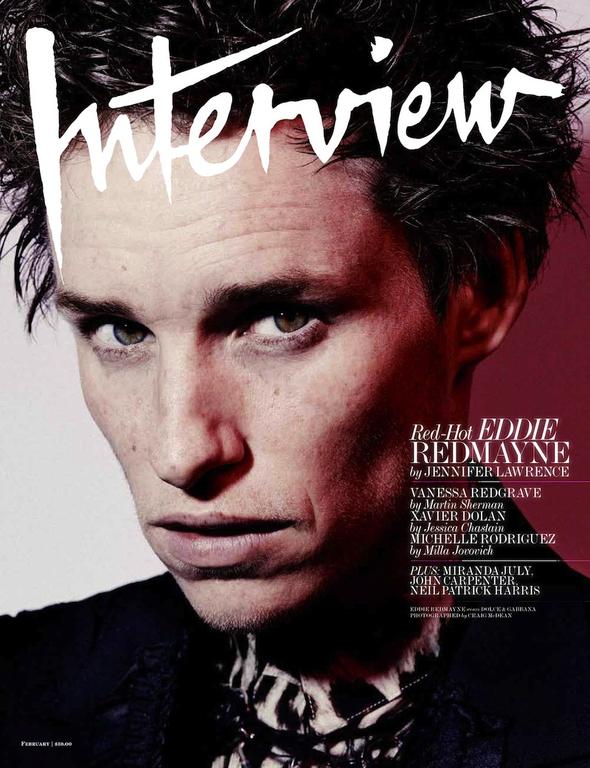 When the British star admitted he feels he has to make things up to justify taking a break, Jennifer responded: "Yeah. I'm like, 'I paint - I'm a painter!'"
The 24-year-old beauty is also upset that she has almost completed filming the final film in the Hunger Games series.
Advertised
Asked about the upcoming movie by Eddie while interviewing him for Interview magazine, she said: "I've got, like, one more thing to shoot for Hunger Games. We just have one scene to do for the end. I'm not happy about it at all. I would totally do [another movie].
On the upside there's always Reality TV to fill the gaping voids in both of their lives... Yep, the man who's tipped to win an Oscar for his portrayal of the world's smartest man - Stephen Hawking - likes The Hills.  The 33-year-old actor said he's "been a closet lover of faux-reality TV since The Hills. It's bad. I come home from trying to pretend to know about astronomy and physics all day and turn on The Real Housewives. I can't believe the intricacies of their lives. I want to know how much of it's a sham, how much of it is directed... I'm a bit vintage. I go back to The Hills. Occasionally Audrina [Patridge] or Whitney [Port] will be on a website that I shouldn't be looking at, and I'm like, 'You know, I just want to check that they're doing all right, because it's my youth.' And the depressing thing is that it's not my youth. I was too old to be watching those programs when I was watching them."
Jennifer Lawrence profiled Eddie Redmayne for @InterviewMag & they of course talked reality TV http://t.co/C96wrzG8ef pic.twitter.com/3e5fCuofWP

— JustJared.com (@JustJared) January 14, 2015
Lawrence, meanwhile, reportedly had something resembling a mini-meltdown by way of response: "I feel like I'm going to cry. We're making a breakthrough. I went to Pump the other night to meet [restaurateur and Real Housewives of Beverly Hills star] Lisa Vanderpump. I had her sign a bottle of vodka, and when she gave it to my friend who was with me at the Oscars, my friend said, 'Jennifer, this is so much better than the Oscars!' "
We're not sure if this is the content Interview magazine was going for - especially given their moody looks to camera (Eddie looks like he would batther you) in the photo shoot to accompany proceedings.
Advertised
Either way, we're happy - our love of reality TV is in in good company.
Are you and Eddie in agreement over The Hills or frankly did you expect more from him? What's wrong with Tallafornia, Eddie?