 Ladies, have you ever found yourselves watching Jurassic Park, or The Land Before Time and suddenly felt all tingly in the pants area? No, me neither.
Nevertheless, two enterprising college students in Texas spotted a prehistoric gap in the ebook market and set about writing and self-publishing a whole load of bizarre dinosaur erotica stories, with tremendous titles such as Taken By The T-Rex and In The Velociraptor's Nest. Yep. Dinosaur porn.
Or dinosaur-on-cavegirl porn, to be more exact. God, there's so much wrong with that sentence that it's actually hard to know where to begin. Kinky Creationists would probably love it though.
Jezebel posted an extract from In The Velociraptor's Nest and I have to say, that excerpt alone is a lot better written than all of 50 Shades of Grey.
Azog felt the kiss of sharp claws against her skin as the hide slid from her shoulder and exposed on naked, heaving breast. The raptor paused, curious, sniffing at her as she pressed desperately against the wall.

A reptilian tongue, stiff and hot, dashed out to lick at the tender, naked flesh so suddenly exposed. Azog gasped at the touch, then gradually relaxed as her body warmed to the intoxicating sensation of the beast's flesh against her own.

She wasn't sure if her sudden arousal was because of her earlier thwarted climax in the cool stream, or if she was just desperate for one last pleasant sensation before being torn limb from limb by the great, scaly beast. Either way, Azog relished the rasp of its tongue, hot and rough, on her sensitive skin.
Advertised
I know that wouldn't be particularly hard, but at least these ladies know how to use the English language, which is more than can be said for the hammering that syntax took in EL James's crapfest. (Or "holy crap"-fest.)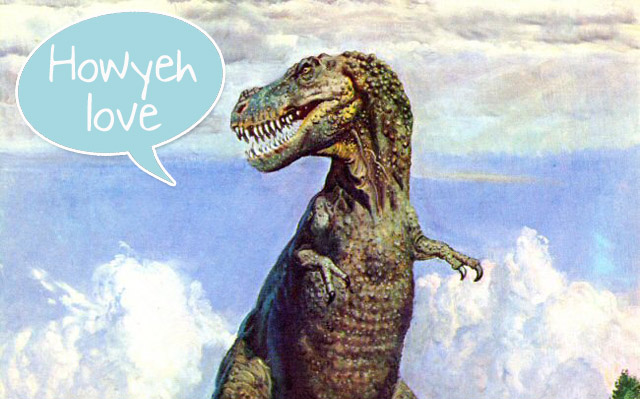 Anyway, Christie Sims and Alara Branwen (pen names, of course) only started writing monster porn about a year ago and are already earning enough to give up their day jobs and put themselves through college with the cash they're raking in. Their product is weird as hell, but hey, they're making a decent living from it so I say good for them.
Of course, the idea of banging a T-Rex (how would that even work? And with the short little arms and all..? Actually, I don't think I want to know) probably won't come as surprise to those of you familiar with Rule 34, i.e. if it exists, there's a porn for it.
But sometimes people take things just a smidge too far, like the Brazilian man who married his pet goat, or the dude who believes he's engaged to Twilight Sparkle, the ringleader of the rebooted My Little Pony cartoon. At least the goat is real, but a fictional cartoon pony is surely another thing altogether.
Advertised
So are you in the worldly-wise camp, unfazed by any of this type of stuff, or is there any...er...niche that you've been particularly surprised by?