 One of the hottest trends for this coming Autumn/Winter 2012 is leather, both real if you can afford it and faux. (In our house when it is not the real deal, we refer to it as 'led-er'.)
Leather is always cool. It screams rebel and rock and roll, and this year designers have utilised it not just as a trend itself, but also within many of next season's other trends including floral, peplum and military.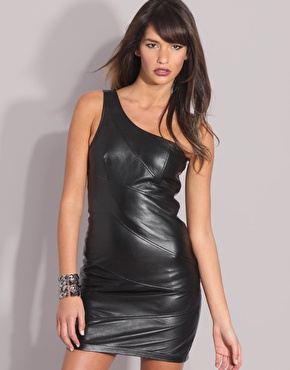 Asos Leather Dress
The leather look for A/W 12 is sexy, stylish and quite feminine. Mainly black, it comes in all forms - dresses, trousers, coats, jackets, gloves as well as bags, shoes, boots and even jewellery. Look out too for metal studs, but overall, leather is looking really pretty.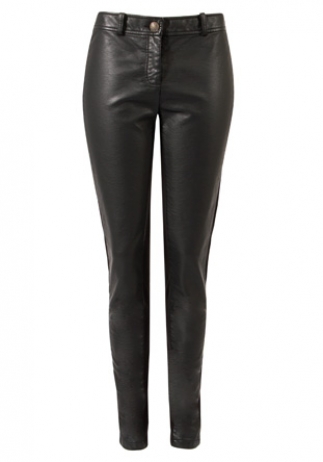 Dunnes leather look trousers
Leather jackets are always a classic, especially in black. The biker style of the last few seasons is still prevalent but this year many designers have gone for a simpler, more elegant look. On the flip side there are also oversized coats, a huge look for winter. Coats are mostly knee length.  A leather coat, if you can afford one, would be a real statement piece and still quite practical in our Irish weather. You will probably be able to wear it eleven months of the year!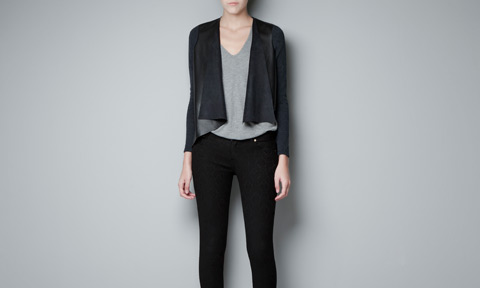 Zara leather insert jacket
Leather dresses have been around for a while but I have always thought yeuch! Sweat much? But when Jennifer Aniston wore that black leather mini dress in summer 2011, I wanted one so bad.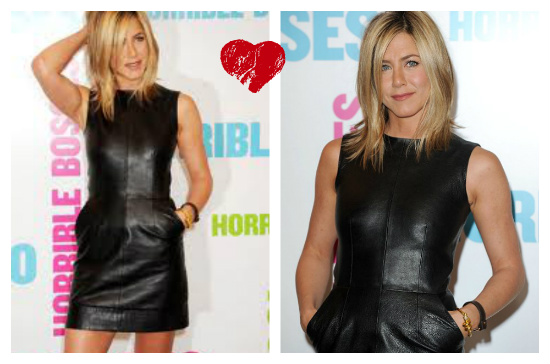 Remember this?
If you too have ever desired one, then this is the year you will find it. I have already found the perfect one. Cherry Couture, it is fabric with a leather (not fooling anyone here – leder) zipped panel down the front. Now I am cool in both senses of the word. Derby also do a nice one.
Mine is a knee length shift but look out too for short A-line and and wear with ankle boots. You won't have any trouble picking one up. Check out any of the high street stores.
Advertised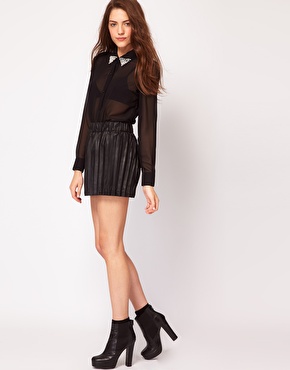 Vera Moda Leather Look skirt
The hottest trend in leather is the leather skirt and the simpler, the better. Think soft, fine, black leather A-line miniskirts and classic pencil skirts. Zara have some great looks.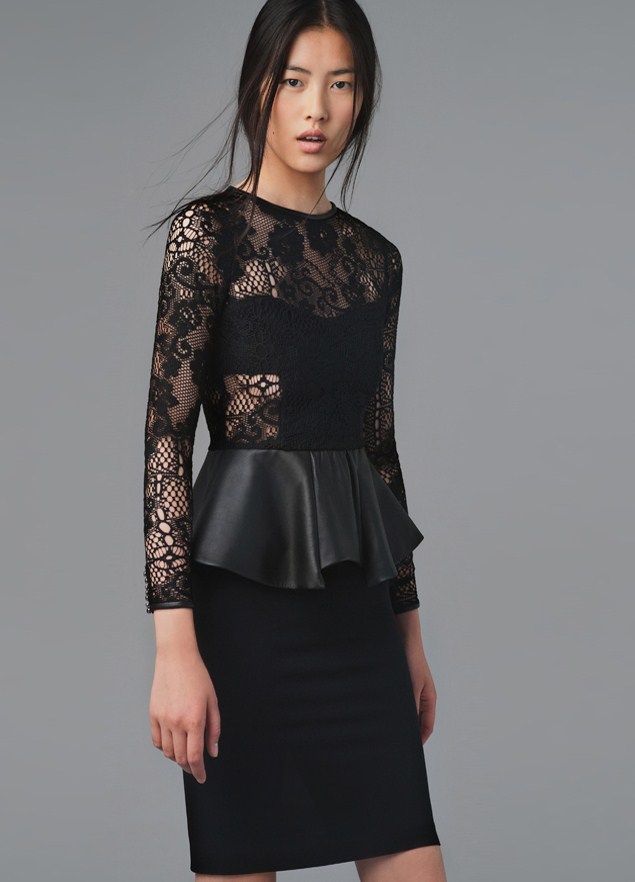 Zara leather peplum dress
If you are brave enough, leather trousers are also on trend and come either skinny, or baggy with a high waist. I have never worn them - memories of Ross in Friends struggling to get his off, have ruined them for me.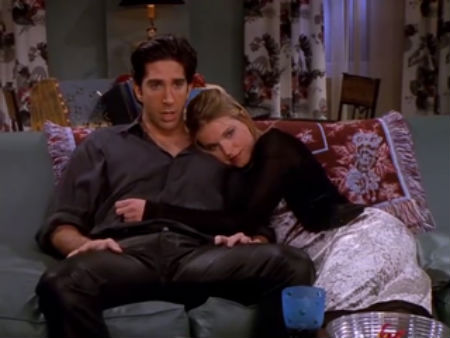 Every rule has its exception right?
For those of us cash strapped, leather has found its way into many of the upcoming season's looks as leather inserts. Edgy but quite girly, you will find them incorporated into dresses and tops. Zara have some lovely ones in store now.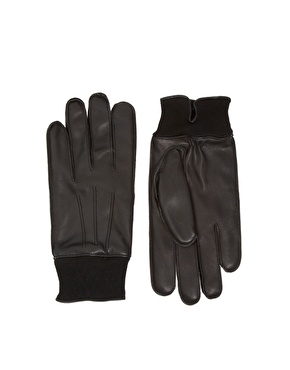 French Connection Leather Gloves
And if you are totally stoney, then there are always gloves, which are actually a hot trend all of their own. Think long and tight fitting like old Hollywood. Very glam. Check out Penneys.
*Wear it well:* Don't over accessorise, leather is the statement and should be allowed totake centre stage.
So what about you? Got a little gra for the leather/pleather/led-er trend?
Advertised
Jane Tynan