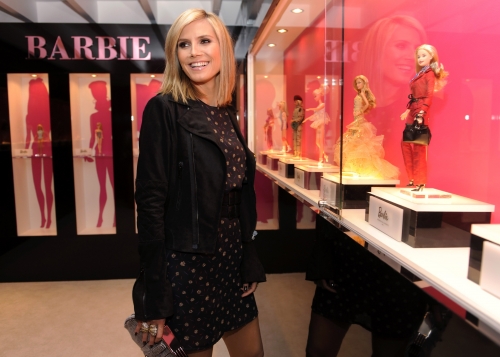 Now, I should say right off that I love Heidi Klum. To the extent that I might actually be in love with her a little bit, although obviously not enough to take on Seal for her affections. I'm not a complete loon.
The man is flippin' massive, like.
By contrast, I would never have been that mad about Barbie. While I don't want to re-open the Barbie/Sindy debate, I was always more of a Sindy gal, possibly because the little sis was cracked about Barbie and there was no way in hell I could like the same anything as herself.
Advertised
It seems that I may have to rethink my allegiance, however: as part of Barbie's "Blonde Ambition" series which celebrates iconic blondes in the worlds of entertainment and fashion, Heidi Klum is to follow in the footsteps of Marilyn Monroe and Goldie Hawn to be immortalised in 11 ½" of Barbie-shaped plastic.
The Heidi Barbie will be available from September. I just hope that Mattel manage to get the hair right ...