 There's a joke that Pinterest is a virtual fantasyland where women go to collect recipes for food they'll never cook, decorate imaginary homes they can't afford, dress babies that don't exist, and plan imaginary weddings to men they haven't met yet.
Irksome as that little stereotype-laden nugget may be, there's more than one grain of truth in it. The majority of Pinterest users globally are women, a great many pins on there are absolutely aspirational, and if I and the bloggers I follow are anything to go by, the rate of follow-through on DIYable ideas being collected on Pinterest lies somewhere between minimal and absolute zero.
For 2013, I'm determined to buck the trend and take at least some of my Pinspiration offline. I'm finding it dead easy to do on the beauty side of things: their respective pins have been languishing for months on my beauty board, but I've now tried recreating the mini quiff Carey Mulligan wore on The Graham Norton Show, Emily Blunt's Gotham Independent Film Awards rose gold make-up, and the chunky tapered black eyeliner that I spotted on an ASOS model. (Yes. I am that random.)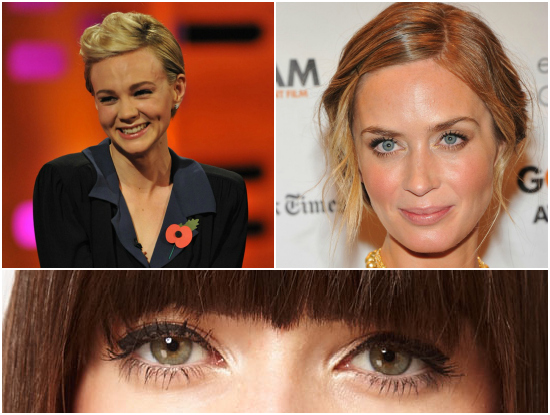 Doing the same for my fash-spirational pins, however, has been proving a smidge more difficult. I tend to gather images of outfits and looks that I like as well as style DIYs and ideas for storing clothes, shoes, and accessories, and I haven't yet managed to incorporate a single element of any of them into Real Life. I could blame the cold snap or not having the cashola to fork out for new gear, but the truth is that I'm just too comfortable in my go-to uniform of skinny indigo jeans, wedge trainers, jumper (a fine-knit grey batwing, currently) and vaguely statement necklace (today's is a geometric gold number) to actively shake things up.
So I've decided to pick a manageable-seeming five fashion looks/projects to actually emulate In Real Life as part of my personal Pinterest challenge. Here's what I'm planning to kick off with: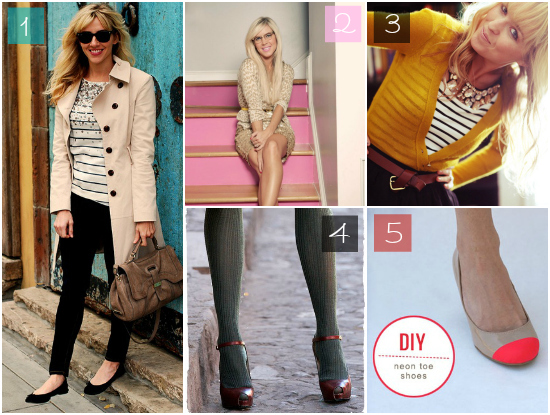 Advertised
ONE
Bling! Stripes! Skinny black jeans and flats! Not a hundred million miles out of my comfort zone, admittedly, but sure it's all about the baby steps.
At least one of my (far too many) Breton tops is getting sequinned up as a result of this pin. It's also a nice reminder to me that the classic skinny jeans and flats and a little top combo always make for a good outfit, even if it's not very edgy or fierce or whatever slightly dangerous-sounding word we're supposed to be dressing towards at the minute.
TWO
I actually have a leopard print cardi, a colourful belt, and a sequinned skirt in my possession right this minute. Why I have never tried wearing them all at once before now is a mystery!
THREE
Layering cardis and tops is something I don't seem to have a knack for, but I'm determined to give it another go having seen images like this one.
FOUR
I have tights. I have open-toe shoes. I have a serious desire to make this happen.
FIVE
There's a pair of nude Penneys flats that I think I've worn once tucked away in the back of the wardrobe. They're ultra comfy but just too boring for words, so I'd like to snazz them up a bit; I'm torn between trying this neon toecap DIY and transforming them completely with an all-over glitter finish.
Advertised
As I gear up for my little challenge, I have to ask: have you ever completed a Pinterest project?
Images via 1. Mirror Online; 2. Bellasugar; 3. ASOS // 1. Sterling Style; 2. The Glitter Guide; 3. The Daybook 4. Peruvian Connection 5. Green Wedding Shoes