 Sometimes big birthdays can give us a shake and push us to try something we've been putting off for ages. And with her 30th birthday fast approaching, Abi decided to bite the gym bullet and hire a personal trainer for six weeks. Her goal is to look and feel the best that she can as she marches into a new section on the 'tick the box that applies to you' piece of official forms. 
She's sharing her gym journey with us;  the good, the bad and the results.
I was never one of those people who cared about another candle on the birthday cake. I loved my birthday and everything about it - the fact that I was maturing nicely when each one came around didn't bother me in the slightest. It was something to be celebrated.
But when I turned 29 last November, the idea that I only had 12 months left in my 20s did terrify me just a little bit. It's not that I feel that 30 is a particularly big number; it's just that when the decade changes, it lends itself to some stock taking of the self. What am I proud of? Am I on track in terms of what I want for my career, relationship and health?
To be honest, I'm not even 100% sure of what I want when it comes to some of the Big Things in life. But what I do know is this - I want to walk into that birthday party in my favourite dress (currently hanging in the back of the wardrobe because it doesn't quite zip up) and have the lung capacity to blow out all 30 of those candles.
So with another six weeks left to my 30th birthday, I've decided that I want to look and feel the best that I can as I march into a new section on the 'tick the box that applies to you' piece of official forms.

When I said this to my friends, there were some 'what are you on about?' exclamations. Because to the outside world, I look like a slim and healthy size ten. But am I really taking care of myself? I can tell you that I'm not. I've no stamina or strength when I do exercise, which is hardly ever. I walk to the bakery on a Saturday morning and that's about the extent of it.
And I have no energy because my diet is shocking (see buttery pastry reference above). I've aches and pains in my knees, back and shoulders and my Mam helpfully keeps saying 'I'd hate to see you when you're older'. She has a point though.
I've also had a big change in my life recently which has also got me thinking about my health. Unfortunately my eight year relationship ended back in July and with that came weeks of not eating properly or sleeping. As I result I lost 5lb and I know stress is not a healthy way to lose weight - mentally and physically I don't feel great after the stress and loss of appetite.
So through a friend's recommendation, I've decided to hire a personal trainer at Crunch Fitness on Aston Quay. It's literally three mins from my office which is great; the handier the better when you know you have the potential to look for any excuse not to go. They have good facilities and I thought I'd treat myself. Plus I'll feel guilty if I don't go - this is the only way I feel I can get motivated and actually do it in the short space of time I have.
Advertised
See I'm the type of person that has great intentions. You know the ones - I prepay for gym classes and end up only going to half of them. One time I even paid a full years membership which was €300 and I still didn't go, not even once, so I basically donated money to the gym for their hard work.  But not this time I'm going to do it. My trainer, Ula, makes sure of that.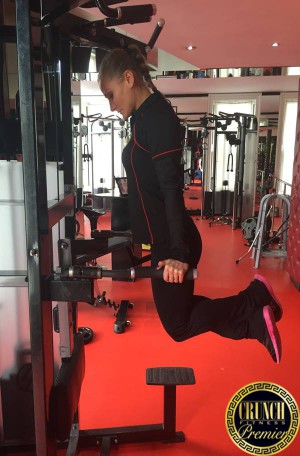 When I was introduced to Ula, I knew there was no backing out now. I 'd done a few of her classes before and I came out of them glowing a lovely shade of purple. She is tough and will not take any excuses from me. And that's exactly what I need.
We discussed my goals and what results I wanted to achieve over the six weeks. Yes, it is a short space of time. No, I'm not looking to completely change my body shape. But I'm going into this decade with a healthy head start.
She took my measurements and did a very quick fitness test. The results were OK  (I'll be tested again in week three and one last time in week six) and based on my height and weight I have 3% more fat than the normal. Ula would like to see me lose 2% fat and two kilos across the six weeks. I didn't really have a goal in mind but she argued you need to have something to focus on, and she's right.
Next came the programme. Ula is recommending I train for one hour a day, four days a week. That includes, cardio, weights and I want to focus on my glutes AKA my bum. Sitting at a desk for eight hours a day has taken its toll and while I can accept that I have a small chest, I cannot accept losing my bum. Pick your boob vs bum battles.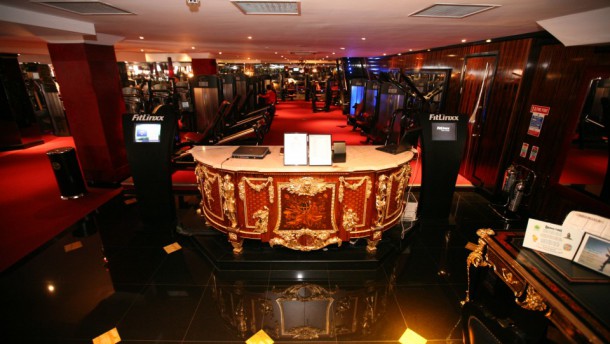 And I was nervous when she handed me my meal plan; I love my food and rarely say no to anything. But to be honest, it's full of amazing choices (not just the standard broccoli and chicken). There are five options for breakfast, lunch and dinner and also a list of snacks that I can have. I must increase water intake, replace coffee and tea with green tea, avoid sugar except in fruit and no alcohol for the first three weeks.
Ula is also recommending some supplements that I should take before and after training. These are expensive and totally optional but I've decided to go the whole hog. I'll let you know what they are like. She kindly brought be around and showed me how to use all the machines as this is what I'll be doing by myself. Crunch Fitness have all the latest machines and plenty of them too, so I know I won't have to wait too long when I go at keys times. And if I don't go , I'm afriad Ula will come and find me.
So the countdown is on, I've six weeks to my party. I just want to take those weeks to concentrate on myself and to feel physically and mentally stronger.
Advertised
I'm going to bring you all on this journey with me and give you my honest and probably painful feedback throughout.
How did you feel when you celebrated your last Big Birthday? Did you make any life changes or make any important decisions?