 Many of us get "in the zone" before a holiday; we increase our training and clean up our diet, but you may have noticed that it's very easy to undo all the hard work. Sometimes it can be very difficult to get back into a routine after a holiday, so my advice is to try to maintain aspects of your healthy lifestyle while you are away.
I love to keep active on holidays. A little more preparation may be required but staying active can be easy and fun. Most importantly, remember to pack your exercise gear, headphones and have fun.
I'm just back from a few days away with my girlfriends; we went to Ibiza and had an absolute ball. Yes, we went for lovely dinners, ate lots of desserts and had a few too many cocktails, but we managed to stay fit also. I'm aware that working out while you're away isn't for everyone, and some like to sit on the beach for eight hours a day and drink cosmos, and, you know what, that's ok too. While this may be tempting, I know that keeping active will help give me energy, reduce stress and keep those extra holiday pounds in check as I know I will be eating unhealthier than usual.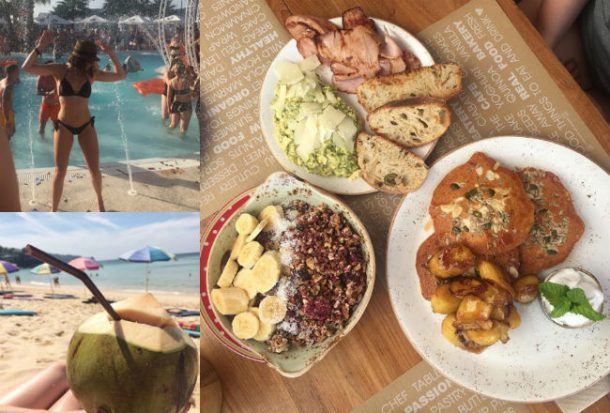 Here are my holiday fitness tips:
Are you staying somewhere with a gym? Is there a pool to swim in? Is there a promenade for walking or running nearby?  If so, use them.
If you're planning to take it easy, you could start the day with a long walk, taking a different route each day to explore where you are staying. When I do this, I like to do it first thing in the morning before I get breakfast. A big walk mightn't be a great idea during peak sunshine hours if you are somewhere very hot.
See the sights by walking or cycling. Burn off the wine you had the night before while taking in the views. Lots of cities offer cycling tours to let you explore while getting a workout in. My hotel had bikes available which was handy.
Bodyweight exercises can be done anywhere, and no equipment is needed. Try my bodyweight workout in your hotel room. I did this in Ibiza one of the days and was ridiculously sweaty afterwards even with the aircon on full.
If you have a mini-fridge, keep it stocked with healthy snacks like fruits, veggies, and nuts to avoid crappy room service.
Try something new. We all headed SUP (Stand-Up Paddle) boarding one of the days; it was a first for some, and we all loved it. It was a great way to stay active and get a tan. Two of my friends went scuba diving.
I love to have desert on holidays, but if I want to avoid it, I order a macchiato coffee instead. It works for me and gets rid of my sugar craving.
It's important to stay hydrated. Sunbathing, walking and general exposure to the sun will force your body to work harder so drink lots of water.
Advertised
We can use holidays as an excuse to sit back and relax, but they also give us the perfect opportunity to look after ourselves and take care of our bodies too.
Far too often, people arrive back in work more stressed out and lethargic than ever before, as a result of gorging too much on holiday and remaining inactive. Holidays are about treating yourself, so enjoy your time off and get back on track once you are home.
Until next time,
Fi x
Metabolic Fitness Trainer
Advertised
Follow Fiona's fitness adventure on Instagram!