 We know the lovely leading ladies of the hit comedy series have pursued their acting careers since the show ended – though they did come back for one film too many… – but what has little Brady been up to lately?
Brady Hobbes was Miranda's son who had a striking head of red hair, just like his mammy.
Joseph Pupo, who played the character, kept the red hair and is now all grown up right before our eyes.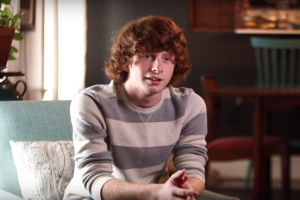 The actor appeared in a spoof interview for comedy series The Battery's Down, in which he demonstrates a fairly typical teenage attitude of apathy.
Advertised
He also revealed on the show, shockingly, that he has never watched Sex and the City!
You can watch the video in full here:
Apparently, he hasn't done any acting since aside from his school play, but he's definitely channelling a kind of Michael Cera-like sense of humour and persona here, so he could have a career there.