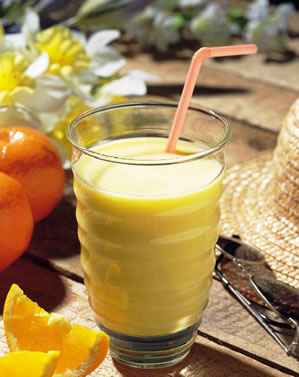 One of the most enduringly popular posts on Beaut.ie is one we put up ages ago about reader Niamh's hellish experience with Lipotrim, which is a meal replacement diet that promises major weight loss. You drink shakes instead of eating food, and you have to drink a huge amount of water too. It's done through pharmacies, and you can expect to drop several pounds for every week you're on the diet.
Because Beaut.ie is a blog, and not a message board, older posts don't pop back up to the top when new comments are added. Instead they become part of an archive, and are accessed through their appropriate category, so you guys may not have realised that older posts still see quite a lot of traffic. But as owners of the site, we can see that this story in particular has the longest legs of any post we've ever done.
Aphrodite revisited Lipotrim again in April, and it's grown even more in popularity since then. The original post gets several new comments a day, with the same people logging on, sharing experiences and sympathising with each other. It's become a fantastic resource for anyone doing this diet, and I think it's time we shared some more of it with the rest of you.

While Niamh hated Lipotrim - it brought her out in a rash and she stopped doing it doctor's orders - a huge number of you feel wildly different about it.
Advertised
The general concensus seems to be that the shakes are disgusting, but that the diet does work. Bronwyn concurred - "I agree that the shakes aren't that drinkable but I can feel a difference already". She was pragmatic about the process - "It's hard but convenient compared to having to count calories and weighing everything you pop into your mouth", and she concluded with "I suppose we're all different and it's really up to you to make the most of it!"
Lipokatie did lipotrim for 11 weeks and told us that she has "lost just over 5 stone .. It does work and I have amazing energy, I haven't felt this good since I was a teenager. It can be difficult if you are not in the right state of mind but if you are in the loosing weight zone it really works". "I'm on my 2nd week of Lipotrim - I was 3 1/2 stone overweight and so far I've lost 1st of that!!!!!" was proudly posted by Lorna and Allie told us her success story too - "have been on lipotrim for a week and lost 7lbs!".
The benefits of all this fantastic weight loss began to become apparent throughout the comments as time went on. Niailig said "I went clothes looking (not shopping becuase I have a goal weight) and i was thrilled to be getting into the size 14 jeans without fear of rolling out over the top of them, I even tried on one pair that were too big and I nearly fit into the size 12. I have never been so determined to do something in my life".
Gals, (and the guys that comment too!) we're delighted that you're all doing so well and have been using beaut.ie as a support mechanism. It makes us feel all warm n' fuzzy inside!