 It's time to dip our toe into the wondrous pool of Soapy Bits...
The Platts are (still) living in a state of perpetual 'fear' now that they've got their very own 'tell tale heart' ticking away under Gail's granny flat conversion. We could almost hear every builder watching Corrie last Friday (what, builders do watch Corrie!) roaring "You don't just throw a load of cement over an open man hole! You need to check it for the rotting corpse of the resident drug lord who's been tormenting everyone first. Look, he's there wrapped in a pirate sheet!"
We know nothing about building, but surly Callum's going to start honking pretty soon... In case you didn't see Corrie Live last Wednesday, he got very aggressive with Sarah Lou, which left Kylie no choice but to bang her ex-lover over the head with a spanner in the kitchen.
In other news, Tyrone and Fiz get more grim news about Hope, so they vow to make it a Christmas to remember (if they can't bring her to Lapland, they'll bring Lapland to the Cobbles); Roy and Cathy get to go on a proper date (where he doesn't leg it and start a scrap with a bus driver); Sally tries to woo Tim back after Anna's announcement; and Yasmeen's after Tracy's blood...
FYI: there'll be no double bill this Friday thanks to the Rugby World Cup.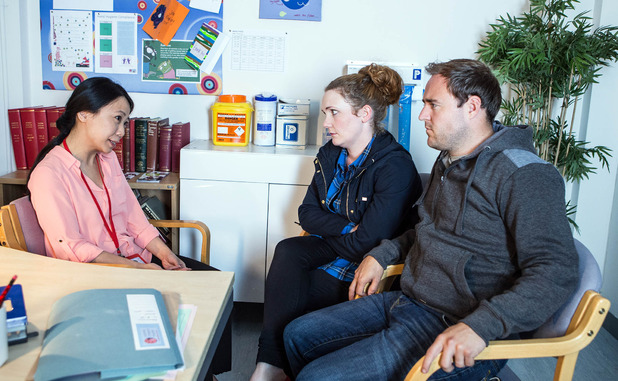 Lauren is (still) at breaking point, not knowing if she should speaking up and tell the troof about Bobby Beale (IT. JUST. WON'T. GO. AWAY) for the sake of Max, or just stick to the agreed plan. Not sure anyone cares at this point, so just have at it, Lauren. Abi, meanwhile, seems keen to get her sister out of the country given she presents her with a one way ticket back to New Zealand.
Mick tells Linda about Lee's depression, not realising that his son is not taking his meds, while - after the mother of all screaming matches (the Jacksons do love an oul ding dong) - Carol decides its best that she moves to Milton Keynes with Robbie... and Wellard II. As departures from The Square go, it's no black cab for Carol, she leaves in style.
Advertised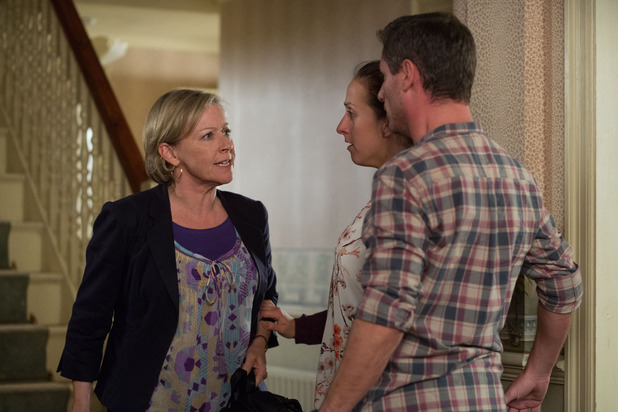 The Villagers don't know who shot Robert - and neither do we at this point. Everyone seemed to be either lurking in the shadows or heading out for late night walks when the incident took place. In the frame, we have Paddy (he's fed up with seeing what Robert is doing to Aaron, oh and he shot the vet in the shoulder not too long ago), Aaron (too many reasons to mention), Chrissie (spurned ex wife who had to deal with hi, having it away with Aaron and killing Katie on their wedding day), Lawrence (anything for his little girl, oh and he found out about Robert paying that rent boy), Lachlan (because he's Lachlan), Ross (because he's Ross), and - last but not least - Andy.  Robert confessed to killing his wife (who he previously had an affair with) and then tried to tell everyone that his stepbrother is losing the plot.
This week, Chrissie gets arrested, but then she's released because someone's made a confession... that person being her father Lawrence. Is he telling the truth?!?! In other news, grieving Pollard is still doing his Rabid Dog impression, and sets about trashing David's shop - which is really sound given his son gave up his life in Portugal for him. He also lands Chrissie in it with the coppers.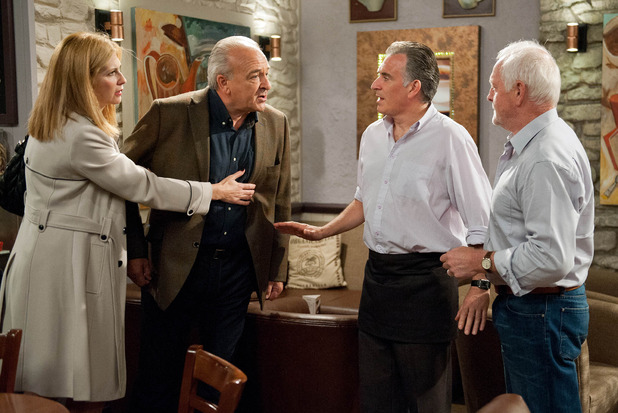 As the pressure of being homeless and jobless properly wraps around Wayne's head, he lashes out at Paul - who, to be fair, is only trying to help - when he offers him money. Orla, meanwhile, gets accused to having a drink problem when mother-in-law Dolores arrives home while she's having a snooze.
Elsewhere, Dermot, Deirdre and Jo present a united front when they tell Ben he must go to the States to get treatment for his brittle bones, while Haley informs Mondo and Charlotte that they're dealing with some fierce nasty sorts...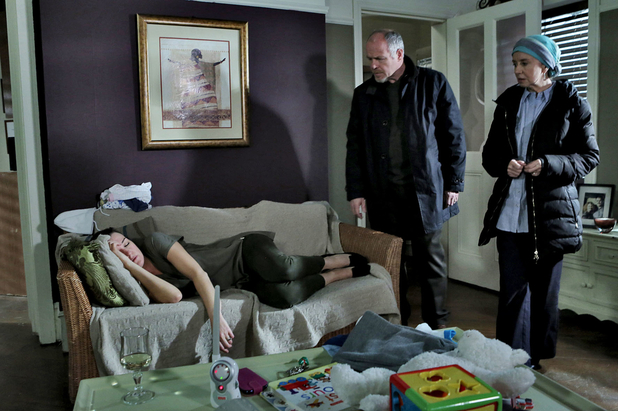 Advertised
Did you catch Corrie Live? Wasn't it AMAZING?! And we're not just referring to the opening shot involving Anna Windass' amazing neckline.