 We don't know where they've been hiding the Bayside High set, but we're really glad they kept it in storage for this.
Jimmy Fallon is firing on all cylinders for his week with The Tonight Show in LA, and continues his 90s throwbacks with a Saved By The Bell reunion that will actually knock your knee high socks off.
Throwing himself in amongst Zach and crew in Bayside High, Jimmy seems to have usurped poor Screeches position in the group (and we can all understand why Dustin Diamond wasn't invited to this little get together) as they all run through their biggest catchphrases, moments and clichés. In short, it's brilliant.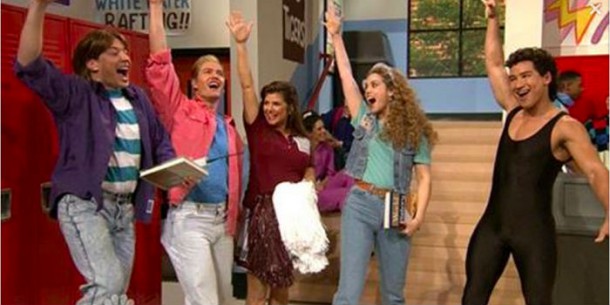 Advertised
What did we learn? Well apart from the fact that Mark-Paul Gosselaar AKA Zach Morris apparently does not age, we found out that Mario Lopez can still rock a wrestling singlet like no one else, Jessie Spano is still excited and that clothes in the '90s were awful, yet somehow we kind of want everything they are wearing.