 The 3/4 sleeve is the Marmite of sleeves: you love it or you go to great lengths to hide every last one of them in the shop so no one can insult you by eating, or in this case, wearing it.
Think back to 2001, though, and recall your wardrobe. I bet every second top had a just-below-the elbow sleeve, and you were fine with it. All the better to show off your stacked bracelets.
The cons against them are few but significant. The lower end of your arm will be cold. Depending on the length of your arms, it may look like you're wearing a top that's simply too small. Some might say, they're useless; too warm in summer, too cold in winter.
But they're coming back for spring 2017 and you will either a) hate them even more or b) buy this top.
We spied it in H&M. New in, black and only €22.99, with the flared 3/4 length sleeves it's an elevated wardrobe staple.
Advertised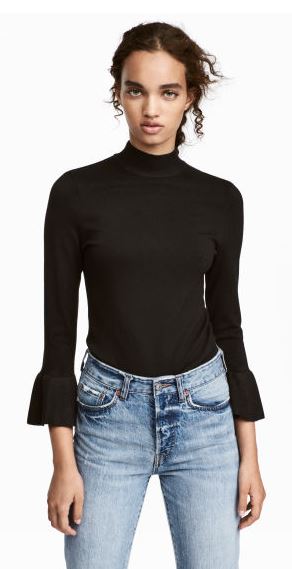 Here, look closer...
Is it a yay or a "dear God get it out of my sight" for you?