 You have one day to prepare. Whether you want to get the green look head to toe, or simply embrace the country's colour this fine week, then you have 24 hours if you choose to accept this mission.
Green is actually a reasonably popular colour this season, so finding some inspiration on the high street is not that difficult. What you need to decide is the shade, and all hues are valid. From our traditional emerald to seventies olive, there is a colour to suit all occasions.
I think the more muted the shade, the easier it is to style and to wear. Bright shades of green have never really appealed to me, but tops and dresses are starting to hit shop floors as more formal wear appears in time for wedding season.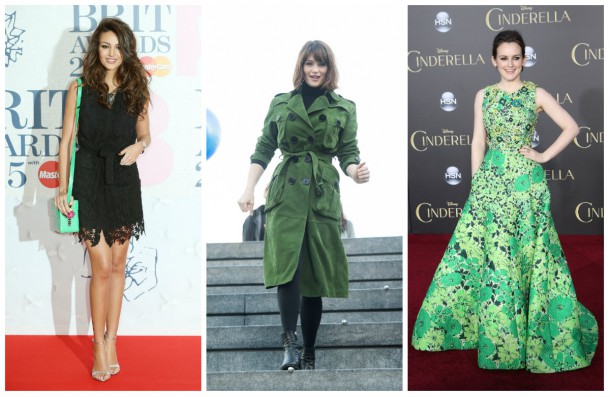 Celebs are loving a little St. Patrick's Day style too. Sophie McShera (aka Daisy from Downton Abbey) wore an incredible intricate gown to the premiere of Cinderella; and she chose shades that compliment her light skin tone and dark hair.
Gemma Arterton went for the chic casual look in a rich green suede trench (which I think is Burberry) last week. And at the Brits recently, former Corrie star Michelle Keegan opted for a bright green bag to add that pop to her Little Black Dress. I'm still crushing on Gemma's coat....sigh. 
Advertised
So for our Beaut.ie "green" edit, we have lot's of different styles and shades to help you style the perfect Paddy's Day look. There are plenty of floral prints around (I don't need to explain more!) and prints that have many ranges of the same colour are always lovely.
Even dark blues, navy, taupe, lime and teal will work with green, so don't be afraid to mix and match. It's ok to clash too! A good staple is always a leather jacket (I do love a good jacket so I do) and River Island have lot's of nice spring colours this season, and look, sure isn't it just a coincidence that that they have a green one?
If jackets aren't your thing, Zara are the best of the separates for SS15 and between lightweight casual trousers and chiffon blouses, your wardrobe can expect an injection of green over the next week, should you so wish. 
What do you think of green? Is it just for the week in question, or is it a colour you think you can work into your wardrobe for the season? 
Advertised