 The fancy summer maxi dress is an absolute saviour for the hot weather wedding
If you're going to a wedding abroad this summer or a wedding in Ireland that will be held in a sauna or something, you're most likely fretting over what to wear. In my experience, from various people asking my advice, a lot of women going to a hot weather wedding would like a long swishy dress to wear. It's a good choice. The right one, styled correctly, can look right at home at a wedding. (The wrong one can look like you had one or two many sangrias and gatecrashed the thing.) It's bare enough to look summery, yet long enough to protect at least some of your parts from the sun. AND you can wear with flats.
I stumbled across this summery maxi dress while looking for something else. I'm glad I did; this is the epitome of hot weather wedding guest dressing.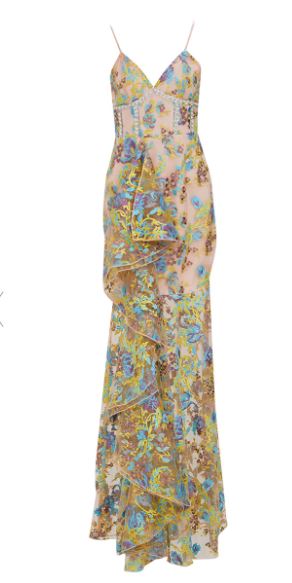 Advertised
The colour palette and print are season-friendly, but the skirt design glams it up.
Despite the sheer skirt, it's not overly trend-sensitive, either, so you can wear it to next year's wedding abroad, too.