 When the only clothes celebs wear are awards show gowns, we turn to street style for outfit inspiration.
Once upon a time (about ten years ago), fashion week street style was crazy clothes combos worn by fashionistas to get attention. As the seasons went on and more street style photographers flocked to snap the most fashionable industry insiders - and those enterprising bloggers on the periphery - the style actually toned down. With the rise of Instagram and selfie culture in general, stylish people didn't have to rely on being discovered by a Vogue staffer. Instead, they just had to use the right hashtags.
Here's how to make your high street outfit look more expensive.
People who push the boundaries with fashion will always exist. It's their method of creativity. The street style at the various fashion weeks is now a good opportunity to soak up genuine 'every day' outfit inspo. Even better, they wear pieces that are already on trend or will be in a couple of months ahead.
I spied these two stylish ladies on Instagram and was inspired by them both. But it's the outfit on the right that will work for all sorts of occasions when you want to be casual but not clad in athleisurewear either.
Street styling
Advertised
She wears a button-down midi skirt with a blouse and runners - three items that, on paper, are wardrobe staples. These pieces, though, all have a very 2019 stamp on them. The skirt is fringed (and yellow and with buttons), the blouse is frilled and the runners are sufficiently ugly enough to look oh, so very fashion.
See our edit of the best white runners and how to wear them. 
Shop the look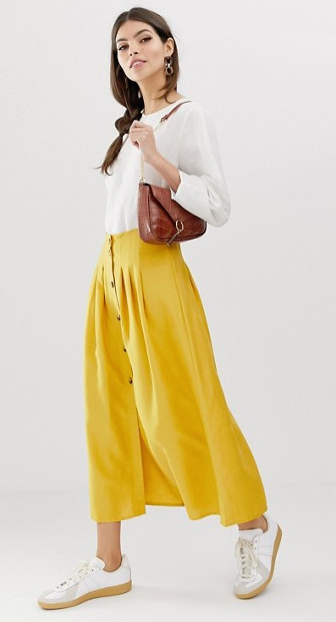 ASOS DESIGN Midi Skirt with High Waist Seams €48.39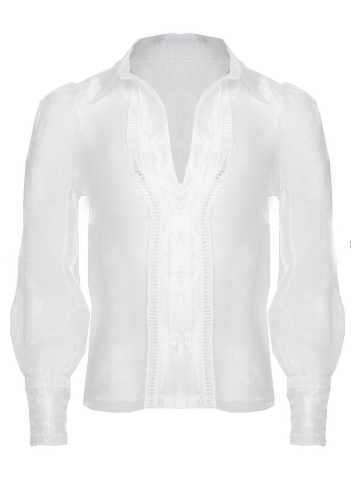 Advertised