 I don't have a walk-in wardrobe. My clothes have to live in more cramped conditions due to the their sheer (in both senses of the word) number. I swear they are replicating, shooting out tatty, cloth babies who feed on my socks.
And nor do I have a seasonal wardrobe. On last count, I owned only four winter jumpers.
Yep, just the four woolly abominations, and these are reserved for those you-could-crack-your-ears-in-half-they're-so-cold days. My general winter wardrobe, you see, involves the ancient Irish art of layering.
And the foundation of any good layering starts with the thermals. These have long languished in the non-sexy category but these days they are having a racy revival.
There are some great thermal vesties on the market. Dunnes and M&S have a great selection. And if you want to avoid the chunky, cream options of yore (that are apparently designed to turn grey after the first wash), then you are in luck.
M&S have animal print, spotted, floral, beautiful bird print and sparkle options. Hallelujah for warm undies that don't scream Granny. Or Onslow.
And Dunnes have slim-fit, coloured options that you wouldn't be ashamed to have peeking out from under your geansaí.
Advertised
Another necessity to our layering pastime is the common garden pair of tights. Whether they are patterned, plain or tan, we've investigated them all.
But my Holy Grail of non-holey legwear is the fleece lined option. These are BETTER than the sliced pan. Cosy, soft and comfy  - it is the tight trifecta. Dunnes do a fabulous pair for €8 but there are lots of options on the shelves.
M&S do a great velvet-feel pair, but my favourites are their "body sensor" offerings. These are designed to keep you cool when it's warm, and toasty when it's cold. No more removing your tights in the pub's bathroom because you are about to pass out.
They come in cute hold ups (€8) or as regular tights (€11). You can even get them emblazoned with Swarovski crystals if you want some leg bling (€35).
With vest and tights in place, you can layer to your heart's (and temperature's) content. But maybe stop before you start channelling our friend Joey.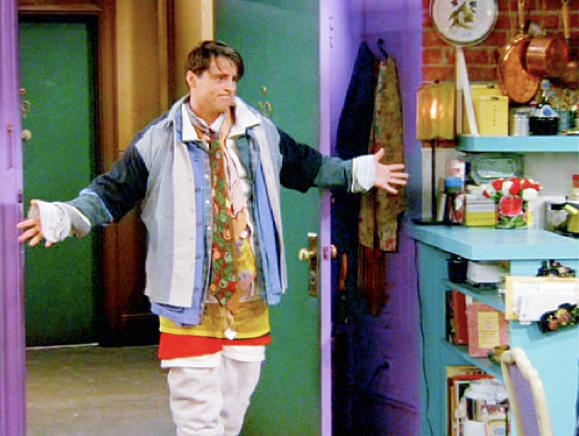 Advertised
Do you have a dedicated winter wardrobe? Or do you just add some extra layers under your regular clothes? Hands up if you love your thermals, to the comments to share the cosy love!
Get Beaut.ie Delivered
Stay updated with Beaut.ie newsletters full of the latest happenings at Beaut.ie as well as great offers and things we think you might find interesting .