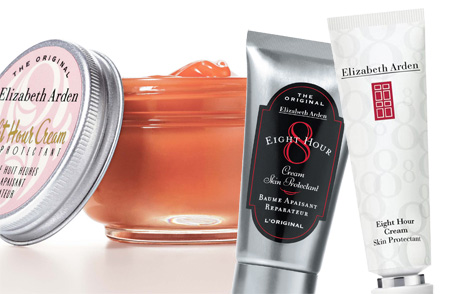 As you'll know by now, it's the eighth day of the eighth month of the (two thousand and) eighth year, and that's why the clever folks at Elizabeth Arden have chosen today as the day of all days to celebrate one of their iconic products, Eight Hour Cream.
We've a special place for it in our hearts because it was one of the first products we championed on beaut.ie, and if memory serves me correctly, it was also the first product we gave away in one of our by now legendary (in our minds, at least) competitions. So, we love it, and today all posts are dedicated to the original balm, as well as the newer products that have been added over the years, like the handcream and the body lotion.
The first product to bear the brand name when it was created in the 1930s, it's also one of their best known. As legend has it, Mrs Arden developed it as a salve for her racehorse's legs - no petroleum jelly for those babies - and then realised just how good it was for humans too. Containing ingredients including vitamin E and anti-inflammatory salicylic acid, it got the Eight Hour moniker due to a user who asserted that it fixed her son's scraped knee in - you guessed it - eight hours. One is sold every two minutes in the UK, and celebs like Cate Blanchett, Gisele Bundchen, Catherine Zeta-Jones, Claudia Schiffer, Victoria Beckham, and Thandie Newton can't live without it. This is about the only time I'll see my name in the same list as that lot, but I'm with them - it's indespensible. Once you get past the smell - which a lot of people dislike, but which I love - it's a pan-generational hero that men and women alike adore.
Advertised
I wouldn't be enthusing about it eighty years post-launch if it wasn't any cop, though. Nope - this stuff works. Use it for chapped lips, grazes, small burns, unruly eyebrows, damaged cuticles, peeling skin, to glam up calves and shins, plus there are a multitude more uses. Makeup artists employ it to give models a gorgeous sheen on skin too, and barring a couple of packaging changes (which you can see above), the formula remains the same now, as it did the day Elizabeth Arden developed it.
All hail the Eight Hour - give us your thoughts in a comment!