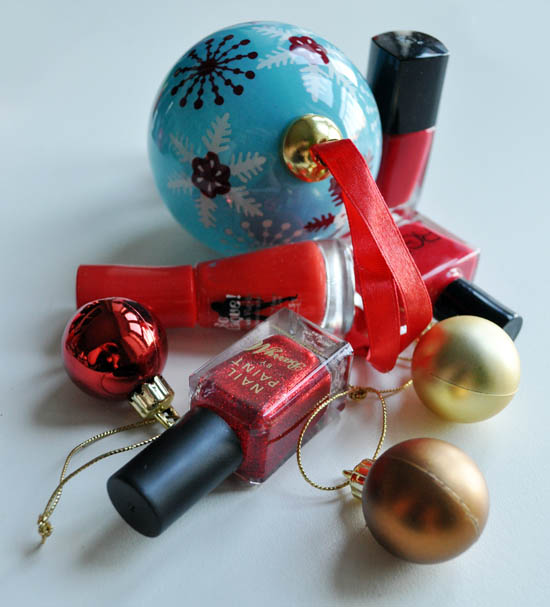 Last Christmas I was all about the glitter - and hey, I still stand by it - but this year, I'm finding I'm really seeing red about the whole thing. Literally that is, as in, pots of it. With small brushes attached.
And it turns out that I have rather a lot of red nail polish on hand, too. For someone who'd never have claimed to be much of a scarlet woman, 12 bottles appeared with remarkable ease. Scratch that, I'm clearly a polish adulteress with a capital A.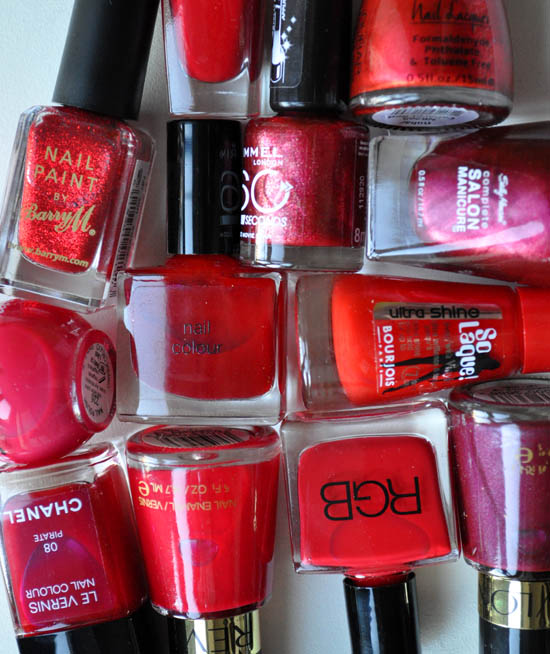 In particular, I can't get enough of Sally Hansen's Complete Salon Manicure in Wine Not recently. I keep taking off the remnants and reapplying - and I never do that. Ever. What's great about the shade is that it's seasonally-appropriate and because it tends towards claret rather than a pillar-box hue, it's more work-wearable.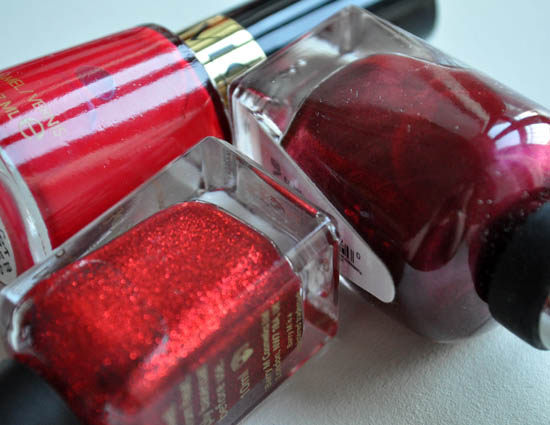 Creme, glitter and shimmer. Oh yum yum yum
Advertised
But reds come in all tones, and my picks reflect that. We've got them running the gamut from deep pinks through to burgundies in a mix of glitter, creme and shimmer. The best bit of all is the vast majority of them are budget babies too - quite accidentally, I might add. Only a couple of pricier options made the cut here, which is very pleasing to see.
Lets take a closer look at what's what, shall we?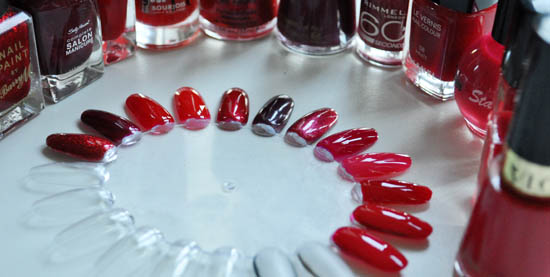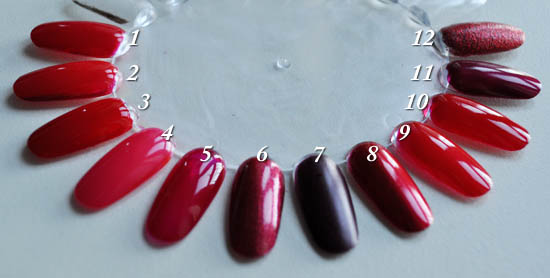 Revlon All Fired Up is probably one of the best red cremes you can get. In terms of formulation, shade and price (about €8ish), it ticks all three boxes nicely and is a proper retro shade that's a really good beauty basic
RGB is a 3-Free brand you can get from Mise Beauty in Dundalk and this is another great creme shade that I can't fault. I've previously loved Minty, and this one, Too Red, is just as good
From Lancome's current Golden Hat collection, this is Le Vernis in 102.  It's a proper true scarlet and it's beautiful on
Stargazer Nail Polish in 226 is a raspberry red creme. It's lovely for the price - these cost a couple of quid
Chanel le Vernis in Pirate, is one of only a couple of high-end reds. This is a lovely creme shade: it's deep, tending towards the purpler end of the spectrum and is very elegant on shorter nails
Almost like a semi-glitter but without any grittiness, this is Movie Star and it's a Rimmel 60 Seconds polish. It has a lovely sparkly, semi-foiled finish in a deep wine colour
Revlon Ruby Ribbon is a matte polish from 2010's winter collection and is less red and more, well, burgundy. It's kind of an odd shade on, with golden microshimmer that's evident in the bottle very much dampened down on the nail
Nubar Cabaret Red is one of my favourite red polishes. It's a beauty, delivering a really gorgeous semi-metallic, shimmery finish that glows on the nail
Bourjois So Laque in Rouge Casino. I love these polishes, they're hassle-free. If some of them are a little sheer, a couple of coats usually sorts that and they apply and last well, plus the brush is great
A really basic Nail Colour in Red offering from Marks and Spencer, this is a nice deep red which gives good colour in two coats. It is only a couple of quid but by god does it have a crap brush. Apart from that, can't really fault it
The aforementioned Sally Hansen Wine Not - just a great shade and finish. I am not mad on overly shimmery/metallic finishes as they can look very ageing and show up any imperfections on the nail bed but this avoids that nicely. It just looks good on
Barry M Red Glitter. Love this. Lynnie showed us recently how to use this with a matte topcoat which works really well, but here's a warning on it - this dries to a dull finish as shown so if you want shine, a glossy topcoat is a must
Advertised
These are my talon teases for Christmas 2011 - do you own any of the above or do you have your own red rules you'd like to add in a comment?