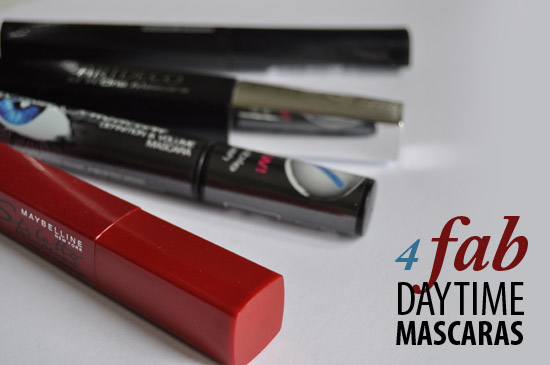 Ah mascara. Earlier we discussed the whole notion of a mascara wardrobe and while of course there's an element of marketing gimmick to the whole thing, what I do know is I've never found the one product that I think works perfectly for  day and night. Y'know, a mascara that transforms from something that gives a little definition with a couple of coats to a va-va-voom finish with three or more.
It just doesn't happen - you need two products to hand, I think. So I'm down with the concept of having different mascaras for different results.
The nine to five generally doesn't require volume, curl, lots of length, separation, definition and a lovely sooty finish.  Well, I guess it depends on what you do nine to five. Swiftly moving on! During the day I'm pretty happy to just go for a bit of definition - I have dark lashes to begin with and a good few of 'em, so a basic, doesn't-blow-my-socks-off wand will generally do.
And I will add, before I go any further, that to my mind, the mascaras reviewed here are just that: none are particularly remarkable, none will change the way you look at cosmetics forever, and all are fine for a fairly muted finish. Fab for day, so.
For night? Nah, as far as I'm concerned, none of these budget-to-mid-priced wands can compete with my beloveds: Chanel, Lancome and Clinique are all AWEmazing at making mascara for night time peepers.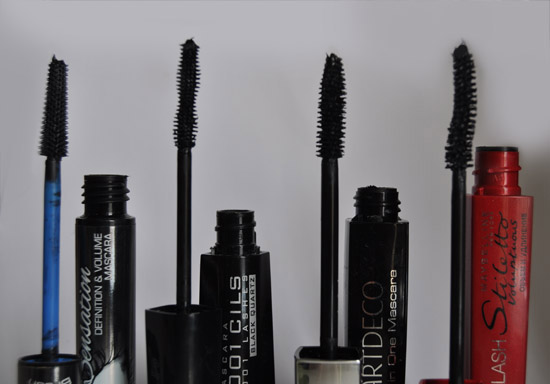 So here we go, our four day time doofers. Lets take them left to right, shall we?
Advertised
Catrice Lash Sensation Definition and Volume Mascara
Ok, the name. It may have cost €2.99 (or not much more), but the name of this product is a big fat lie. A) it is not sensational, B) it doesn't really give volume and C) it doesn't do much more than add a little basic definition. The wand is good though - a plastic hedgehog -  if a little bendy, but that allows you to manipulate it in at small lashes. You can also build it quite well with no clumps. Not a mind-blower by any manner of means, but very very cheap, a decent pick for work, and doesn't end up all down your cheeks - which was a concern for me based on price. Lastly, this - like er, a fine wine - improved with age. It was very wet to begin with but has now thickened slightly and gives a better result.
Bourjois 1001 Lashes Black Quartz
I like this. I also like its predecessor, 1001 Lashes Mascara, which comes in a sleek white tube for €12.99. Black Quartz costs the same, if I'm not mistaken, and while this promises an ultra-black and high-shine finish I'll be 100% honest and say I noticed no real difference between the two. But that's not to say this isn't a good daytime pick - the brush is really great, very neat and and it separates lashes subtly. While there's no major volume going on, it lengthens the lash fringe and fans it out nicely. I like the effect of this the most for daytime eyes.
Art Deco All in One Mascara
Another basic, but not-so-budget lash coater. At €16.45, this is the most expensive of the four and also the most unremarkable. I  don't necessarily mean that in a bad way - it's just a bit of a workhorse and isn't going to cause you to go into raptures of joy for either result or packaging. Featuring an old-skool brush, it's reliable, coats lashes well and doesn't seem to go horrible and dry over prolonged use.
Maybelline Lash Stiletto Voluptuous mascara
This is the fanciest of the four and is the newest incarnation of Lash Stiletto mascara, which I like to begin with. €11.94 is the damage and an S-shaped brush marks this one out. Our auld buddy, the Wand Wizard, has this to say about it: "The excentered S-shaped curve, featuring a fairly open angle, enables more contact points with the lashes. It allows access to all lashes, even the outer far corner ones. The curve of the "S" operates as a reservoir to deposit more formula. The result is lengthening and volumizing."
Advertised
Right so, Wand Wiz. Not sure what excentered means, but what do I think of it? Yes, this is the most volume-tastic of the four and the only one remotely likely to try to take you from day to night  (still not enough for my demanding evening eyes ways, though) but it's hella messy. It splashed back all over my lids which always gets a "grrr" reaction from me. That's OK if you're wearing dark shadow or a lot of liner, but I generally don't for work, so tidy-up is needed.
Have you tried any of 'em? What do you think?