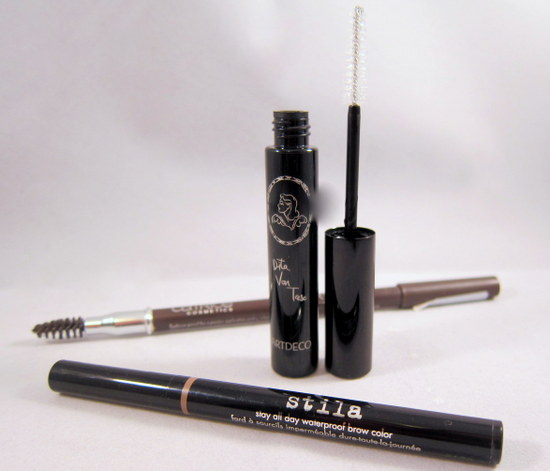 A nice part of writing about beauty is attending occasional launches and events and finding out about the new products headed our way. My mum calls - she has seen me in the paper at just such an event. I brace myself: my mum is very, erm, honest. Thankfully she ignores the double chin but hones straight in on something I'm way more sensitive about: "Your eyebrows are too dark."
MY EYEBROWS ARE TOO DARK?!? I love my eyebrows. I fill them in every day and I was labouring under the illusion that they were pretty much the dog's bollocks. Some people have good cheekbones or teeth or bone structure: I have good eyebrows. Or so I thought. I relay this story to Rosemary. She agrees with mum. And now I really start to panic.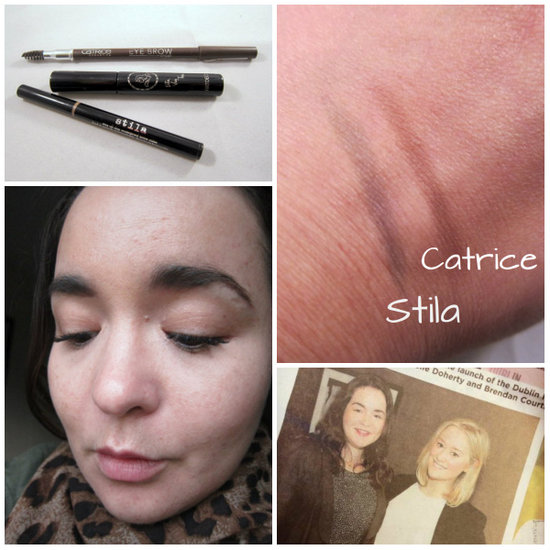 Bottom right: the offending photo (that stunner I'm pictured with is Julie from Musings Of A Makeup Maniac); left, wearing Stila brow pen & Artdeco gel, and very little other makeup
Luckily, help is but a short commercial transaction away. To move myself out of Scouse Brow territory I've invested in a few lighter hued brow products that will hopefully look a little bit more natural. Here are three I would highly recommend:
Advertised
ONE: Stila Stay All Day Waterproof Brow Colour captured my attention at the recent launch so I bought it straight away - and it's love! It's quite translucent so it's hard to go overboard and it gives a softly defined finish. The waterproof aspect will be handy for holibags, too. This was €15.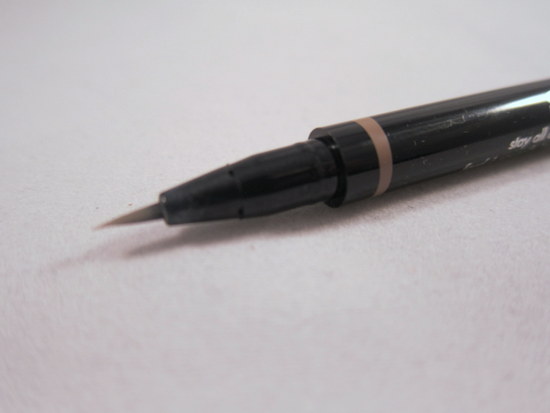 TWO: For the princely sum of €1.99 I snapped this up in my local chemist and yet again, I doff my hat to you Catrice. This Eye Brow Stylist is a really good quality waxy pencil in a nicely natural colour and the attached spoolie is a good 'un, though I'm raging I've already lost the cap. There were three shades to choose from when last I checked.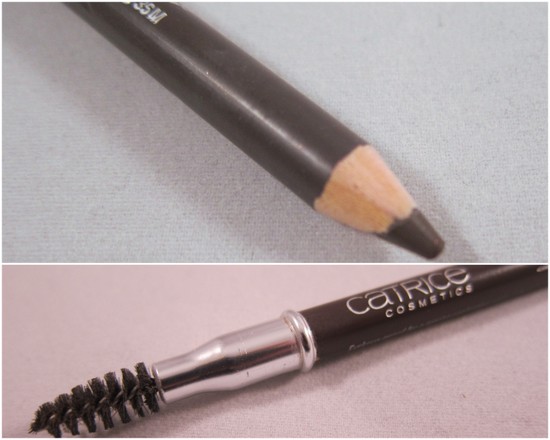 THREE: The Dita Von Teese line for ARTDECO  (centre, top pic) has brought out some new products for autumn and this handy brow gel, €14.05, is one of my favourites. It comes in midnight, mink and crystal, this clear variety, which is great for keeping my brows in place without adding extra colour. It has more hold to it than the Essence product I was using before; I'm quite smitten with it and use it in conjunction with the first two products I mentioned.
Advertised
Tried any of these? Or do you have any other suggestions for me to check out?