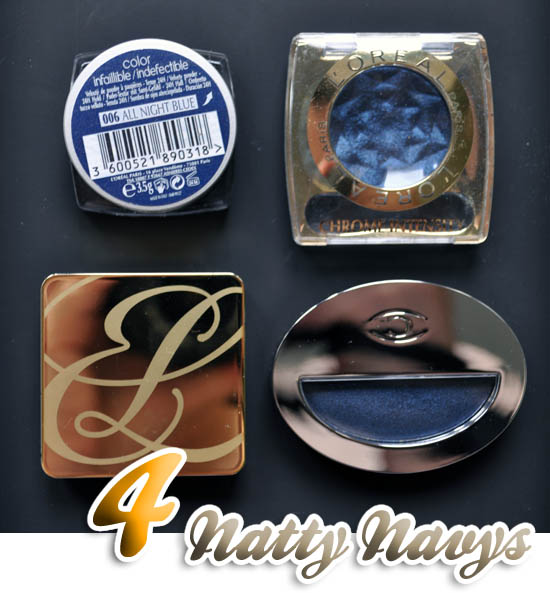 Last week's look at Dior's autumn winter collection, Blue Tie, reminded me again how much I like navy shadow. I've brown peepers so navy works well and it's also a lot less harsh than black - it's definitely one of my favoured shades for a smokey eye.
If the cash or the inclination doesn't come your way to indulge in any of the Dior pieces, which are, lets face it, not exactly the cheapest, then there's plenty more navy fish in the coincidentally blue sea. I've got a good few of them from high to low-end littering my makeup boxes but these four are the ones I'm fondest of.
Clockwise from top left, we have: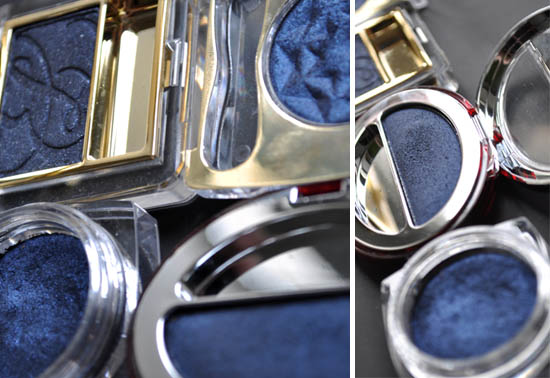 Advertised
But surely a navy's a navy's a navy, yeah?
Well no, not all navys are cut from the same cloth. Some are metallic, some satin-finished, some matte, some glittery, some tend towards indigo and some are more blackened. It's a really fab shade and because it's so dark, it works in finishes that might look kiddy if they were paler - I'll happily wear navy glitter, for example.
And here are our swatches: from left we've got L'Oreal Paris Colour Infallible in All Night Blue, Estee Lauder Purecolour eyeshadow in Midnight Star, Clarins Mono Couleur in Midnight Blue and L'Oreal Paris Chrome Intensity in Blue Jean. All are great shades and you can see there are subtle shade differences among them as well. I think the Clarins one is possibly the most intriguing as you don't expect it to be as good as it is - but it's deeply pigmented, creamy and has just a hint of purple. The Estee shadow has some fine silver glitter which sets it apart too.
For value for money, creamy texture, deep pigmentation, easy of use and availability, get either of the L'Oreal Paris shadows if you'd like to try the colour but aren't sure if it's a goer for you. Both are genuinely great buys and I can't say enough good things about the L'Oreal Paris Colour Infallible range in general. Gick packaging on L'Oreal Paris Chrome Shine and Chrome Intensity shadows aside, they are fantastic and really well priced. Lynnie's a fan as well and for the under-tenner-charge, they definitely punch above their weight.
Advertised
Are you a navy fan? Tried any of the shades above or do you have particular favourites of your own? Let us know below!