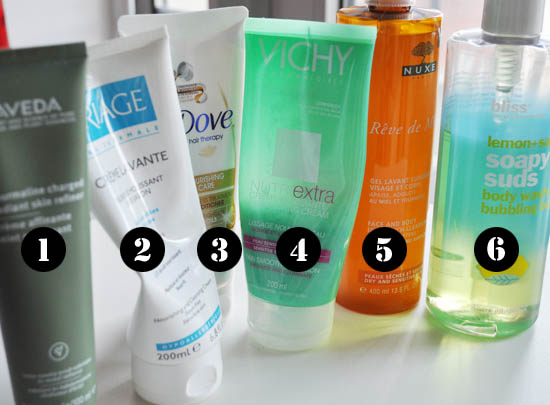 I love bathy things, me. Lynnie asked us recently if we were bath or shower peeps (and crucially, whether Lyons or Barrys floated our tea-related boats) and lots of you came down hard against poor old baths. Now, I enjoy and covet a long sudsy soak but for speed and practicality, showers tend to win out.
Just because they're quick doesn't mean they can't be nice and filled with delicious products, however. Here are six I've been using and liking of late:
I got very lazy about exfoliation there for a year or so thanks to my hot cloth and oil-slash-balm routine. That keeps my skin looking good and in general I tend to forget about Origins Modern Frictioning my mush (it's long been my facial exfoliator of choice). But when this admittedly pricey exfoliator from Aveda arrived for review, I tried it out. Scrubby yet gentle, I think you'd get along well with Tourmaline Charged Radiant Skin Refiner, €38, no matter what skintype you have. It definitely added an extra layer of polish to my complexion (sorry, couldn't resist) and now I leave it in the shower and try to use it at least once a week
I bloody love this. I forget the price but I think it is comparable to La Roche Posay's Lipikar Surgras which it is very similar to, so in and around the €10-€11 mark. Uriage Creme Lavante is a creamy shower wash that smells lovely, is dermatologically tested and designed to preserve the hydrolipid film, so it doesn't dry skin out. A great pick if you have a very dry hide and try to avoid excessively foamy, sudsy shower gels, which in general I do, so I liked this one a lot, as you can tell by the mangled state of the tube
We've already had a post about Dove's Nourishing Oil Care Express Treatment Conditioner which is a total steal at just €4.69, so find out why it's so good over here
This was a big surprise love. Vichy Nutriextra Body Exfoliating Cream hit the Beaut.ie newsdesk a few months ago and I rooted it out of the to-be-trialled-pile before me and Aisling went over to Galway a few weeks ago, reckoning my capacious arse could do with a bit of pre-spa attention. I didn't expect much but even in two or three days it had smoothed skin on upper arms and thighs really nicely. Impressive stuff for a tube that costs €12, I reckon
Nuxe's Reve de Miel range is delicious, no two ways about it. We love the lip balm in this line a lot and I'm happy to say that the Face and Body Ultra Rich Face and Body Cleansing Gel, €19, fits the bill nicely. While it does smell of honey it isn't sickly-sweet all, otherwise I just wouldn't stomach it. Neither is it sticky, but it is thick, unctuous and very lovely to use. A real pampering treat. The huge 400ml size justifies the price and this is a lovely product to use on a chilly morning
One I picked up in Galway, this big whopper of a shower gel from Bliss was €20 and smells absolutely amazing. It's Soapy Suds in Lemon and Sage and can be used as a gel or a bath foam (but so can all shower gels really). This contains SLS so it's a bit drying for me - the scent helps make up for that, though
Advertised
So, that's what's currently cluttering up the end of my bath currently. What are you using right now?