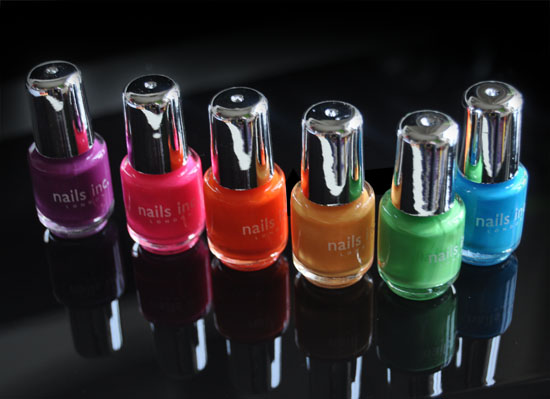 €35 will bag you this set of bright 4ml minis from Nails Inc, along with a base and topcoat - but I didn't put 'em in the picture because they just weren't pretty. It's a steep price - especially when you consider the sterling charge is £22, but putting that particular bug-bear aside, I wanted to see if it represented any sort of value.
So I worked it out: a full size at 10ml (thanks to Twitter for confirming this!) generally sells for €14 or so. With this set you're getting six small shades plus your base and top coats, which works out at 32mls, or roughly the price of two-and-a-bit full sizes. If you think that's good enough value for doing your own skittles manicure then you'll find this at big Boots and Nails Inc counters.
Advertised
However, if you want to replicate the look on a budget, then I suggest you get yourself to the nearest Essence stand with the quickness - they do minis in neons for a couple of quid a pop.