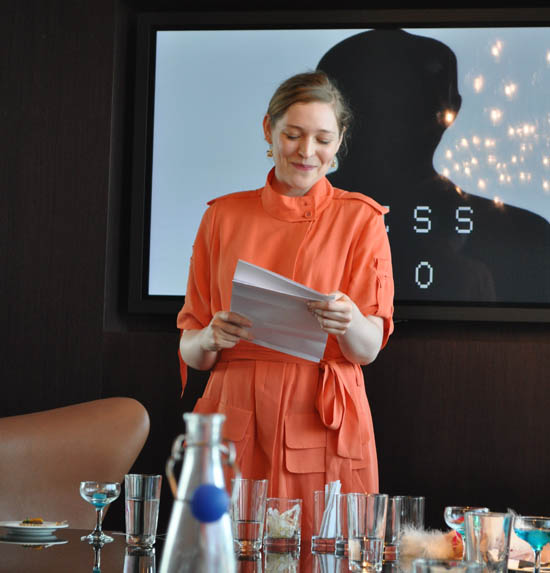 Scent-spert Lizzie Ostrom
"Have you ever wondered why your sense of smell can evoke so many powerful memories? Why a whiff of CK One or Charlie Red can jolt you straight back to your teens? Why is it so hard to describe a particular scent? Why scent can so strongly polarise opinions?" the invite from Coty Ireland read, before asking me would I be at all interested in heading along to an evening hosted by the London-based Lizzie Ostrom AKA Odette Toilette, who hosts scent events with a difference via her Scratch+Sniff endeavours.
Would I be interested? Ah what do you think girls? I got my name down quick-smart. I love scent; I wish I had more time to devote to it but it's such a huge beauty topic all on its own it only ever gets whiffs here and there on the blog. And I've been letting my nose down recently too, so letting it loose for a couple of hours on some new-to-me perfume was pretty damn appealing.
If you're put off by a genre of cosmetics that can often seem fussy and posh and baffled by notes and accords and aldehydes, then rest assured Lizzie makes it all a lot of fun. We pretty much played parlour games as we blind-sampled scent on blotters. Closing our eyes, she talked as we inhaled, prompting us to nudge our brains with prompts like "what sort of landscape can you see? What's the time of year? Is this a holiday scent?"
Everyone had different answers and when we moved onto the second blind test, things got even more interesting. Lizzie asked us to close our eyes again as we inhaled, prompting and nudging us with questions. I took a quick clip of the sorts of things she was asking us, which you can check out above. Everyone's opinion on this differed - I found fragrance number two to be a very young, sweet girlie spritz.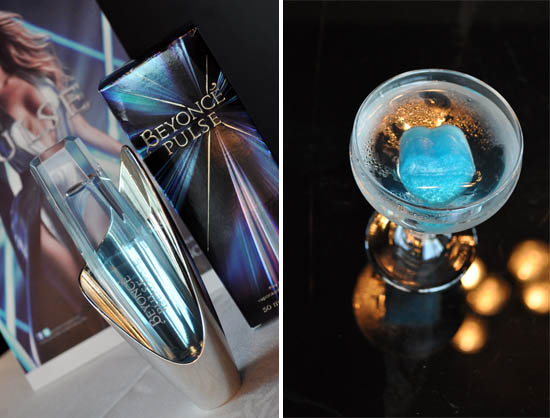 That part done, we still weren't told what it was. Nope, next, a mixologist explained how he'd interpreted the fragrance, breaking it down into its constituent parts and creating a lemon-soaked vodka, pear and blue curacao cocktail to represent the notes. So, what the blimmin' heck was it?
Beyonce's latest, no less. Pulse is the third scent to join the booty-shaker's perfume empire, and while it's noticeably different to her first, Heat, it's not a million miles away. There's lots of sugar and sweetness and it's very heady - and it will do a bomb for Coty, you can tell. Me? I didn't love it in a blind test (and y'know, I'm glad I sniffed it that way first because it stripped me of any brand, celeb or packaging prejudices) because it simply doesn't smell like the sort of perfume I like; which is generally sharp, citrus and zesty.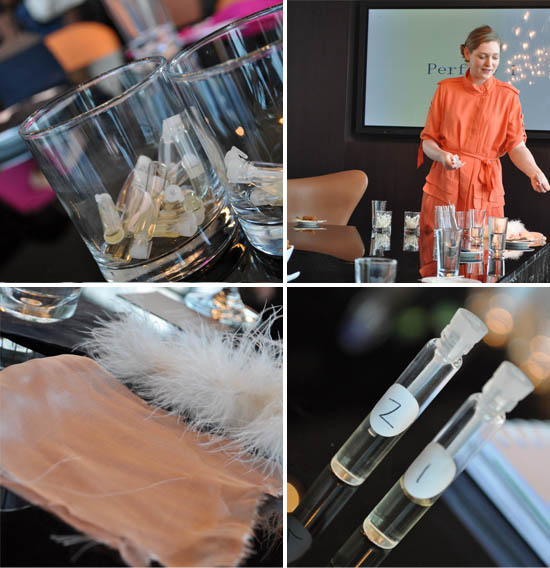 But that's not to say I'm dismissing celebrity fragrances out of hand. After all, Tilda Swinton's got one for Etat Libre d'Orange, Like This, and I'm mad to give that a go.
Advertised
Lizzie mixed it up and played other games with us, one of which got a lot of laughs. We inhaled a fresh, zingy male scent, which one attendee reckoned sniffed rather like Molton Brown's Black Pepper EDT. A piece of paper was passed around the table, on which were different questions all about the putative gent who might be the wearer of such a fragrance. As the sheet came to you, you filled out a question, folded the paper down and passed it on, so Lizzie ended up reading out some very interesting - and mixed - impressions on the chap who might wear it.
At least two people - including Liam from Personal Odour - reckoned he might be a bit of  hunky woodcutter (and no, they didn't confer!), I thought he'd be a bit of cool dude who liked fashion and someone else felt he just might like to wear his wife's knickers; cue much mirth.
So, what was the fragrance? David Beckham's newest, Homme. It's definitely got the all-important nuzzle-factor.
And uhuh, the lady with the knickers input did have the inside track on what it was!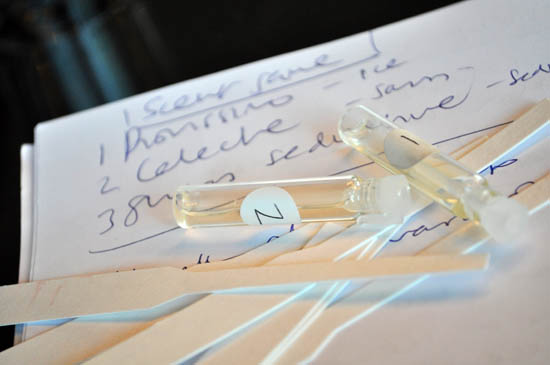 The last test Lizzie set us was to  match three fragrances to three female archetypes and three sets of fabrics. So we had a sassy gal, an ice maiden (typified by January Jones' Mad Men character, for example) and a temptress. Fabrics were silk, maribou feathers and velvet.
So how did I get on matching everything up? Well, I got it all completely arseways. Confident I'd definitely identified tuberose - a heady, seductive and very sexy note - in one of the scents, I definitely reckoned I was onto a winner and nabbed it for the temptress spot, only to be put firmly in my place and told the note I was smelling so strongly was actually lily of the valley and the perfume was none other than Dior's famous Diorissimo (Jilly Cooper fans will recognise this one). Clowned!
Because lily of the valley's quite a restrained perfume and Diorissimo has a pedigree as quite a 'debutante' scent, clearly, there was no seducin' going on there. Ice maiden it was, and I fell about laughing. That meant I also got sassy badly wrong, identifying Herme's Caleche wrongly too: while I'm familiar with the more recent Kelly Caleche, the leathery notes in Caleche were ones I didn't pick up on, and Lizzie explained that she'd picked this for sassy as it was independent-spirited, speaking of a woman who did her own thing.
So, did I enjoy the evening? Hugely. It was an opportunity to inhale some new scents from Coty and other brands I hadn't previously tried - like Eau de Gloire by by Parfum d'Empire - most of all it was a really fresh chance to take a look (and smell) at fragrance in a different way.
Would you like to go to to something like this? Lizzie was keen to find out if there would be an audience for her Scratch+Sniff events in Dublin. I know I'd definitely go to another!
Advertised