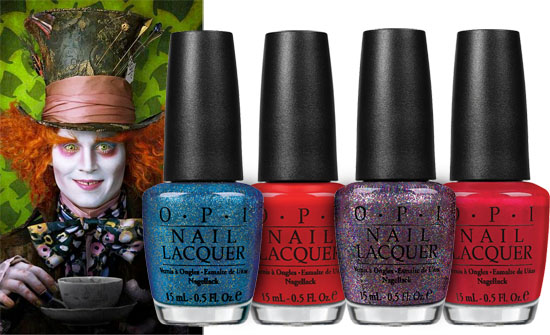 I'm pretty sure you can't have failed to have seen advance shots from Tim Burton's forthcoming remake of Alice in Wonderland, due to sashay onto celluloid in March. Psychedelically colourful, Johnny Depp's reprising his really-getting-tired-now Wacky Character (TM) schtick as he'll play the Mad Hatter, and it seems he wasn't the only one inspired by the production.
Nope, beauty brands are all over it too - Opi will launch their Alice in Wonderland collection at the end of the month and Urban Decay have a fabulous pop-up palette incoming too. Lets check out Opi's offering first, shall we?
Four polish shades, plus a set of minis, will be arriving. Shades? Oh, you want to know about them? OK! From left to right we have Absolutely Alice, a blue glitter; Off With Her Red; Mad as a Hatter, a multi-glitter and Underland, a glittering red. I don't have precise price info but am guessing in and around the €14-€15 mark, possibly around €20 for the mini set.
So, do you want to get a look at what Urban Decay have up their Alice-lovin' sleeves?
Advertised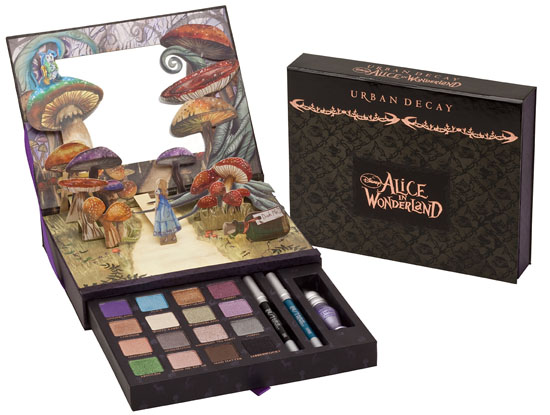 Alice in Wonderland Book of Shadows contains 16 best-selling eye shadows, (re-named, as far as I can make out, for this set) plus two travel-sized 24/7 Eye Pencils and a dinky Eyeshadow Primer Potion. It's going to be a Debenhams-exclusive, it'll cost €37 and you'll find it in stores in March.
Will you be suckered into the Alice hype? If so, what'll you get your paws on?