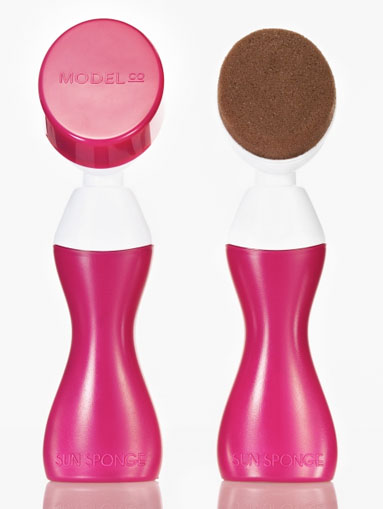 One of you got close yesterday with a guess as to what the weirdy pink yoke was. Shelly wondered, "Is it some sort of weird fake tan or cream or maybe even wax applicator??" Oh, she was pretty much correct, while the rest of you made stabs at it being a doofer for microdermabrasion, a vibrator, razor or even a teeth whitening gadget.
One of you was 100% on the money though. ShoB said, "I cant resist givning it away - it's the ModelCo SunSponge … it's like a shoe polish dispenser for fake tan with the sponge tip," she revealed. Yup, that's precisely what it is, ladies.  €44 is the damage for this disposable, non-refillable gadget that comes in one custom shade and contains enough product for three-to-four full body applications.  Hmm, seems pricey to me, though the brand say the dispenser is hygenic and that the sponge tip makes the application seamless.
Advertised
Whaddya reckon? Now you know what the mystery gadget is, would you be interested in buying?