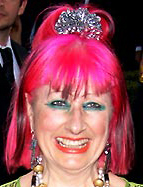 A friend of mine asked me if I had any recommendations for eye makeup removers as her usual Boots Botanics one wasn't doing the job anymore. That would have been one I'd use and recommend myself but she says the formula seems to have changed, which is a shame as it was a good product at a decent price.
So what else is good? If you wear a lot of eye makeup (like Zandra Rhodes over there on the left, eek) then you need something effective to take it off. And it has to do that job without too much effort because pulling on the skin round your eyes is just not a good idea - the skin here is 50% thinner than on the rest of your face, and you don't want to be tugging on it. I use Clinique's Take the Day Off a lot. It'll take makeup off your lids, lashes and lips and it can deal with pretty much anything. It is quite oily though and does leave a bit of a residue, so it's best used at night - putting more makeup on immediately is not going to go well.
Clinique also do another couple of eye makeup removers that come recommended - Aphrodite uses their Rinse Off Eye Make Up Solvent which is oil free and won't budge other makeup. I also use their Naturally Gentle Eye Make Up Remover which is a cream cleanser and is very gentle and effective. Both the Rinse Off & Naturally Gentle removers are €14.50 from Strawberrynet, you'll pay about 10% more at a Clinique counter.
Advertised
I've recently tried out Estee Lauder's Gentle Eye Makeup Remover which is really nice. It's suitable for all skin types and it's oil free which means it's good for touch ups and you'll be able to put more slap on straight away. It's also suitable for contact lens wearers. I don't have a price for this stuff unfortunately as mine was a sample size that came with a Gift Time offer, but I doubt you'd get much change from €20.
Slightly cheaper would be the Body Shop's Camomile eye makeup remover - it's about €11. I haven't used it myself but from reading on-line reviews it scores highly and people rave about it. Camomile is really soothing so I'd imagine it'd be gentle on the eye area.