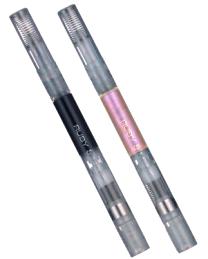 I got an e-mail from Lee the other day, looking for help in finding the best product for an eyeliner virgin. This is something that comes up time and time again, and my number one recommendation has to be Ruby & Millie's i-Writer. Yes, the Rimmel offerings are a bit cheaper; yes, the Bobbi Brown gel ones are bloody fab; yes, MAC does an incredible line (har har) in rainbow-hued, ne'er-come-off eyeliners. But I don't think that a newcomer to the world of liner needs the hassle of either skinnymalinks applicators or trying to get to grips with the myriad of eyeliner brushes available.
Ruby & Millie's i-Writer totally does away with all that messin'. It's in pen form with an excellent built-in brush: simply twist the top to release the product on to the 'nib' of bristles. The brush is tapered, allowing you to do a fine subtle line or Amy Winehouse's black marker effort and everything in between with total ease - and yes, it's easy to do outer-corner cat's eye flicks with it too.
There's a ton of colours to choose from, not just bog standard black and brown, and you can buy from Boots for about 15 quid.
Advertised
Sorted!